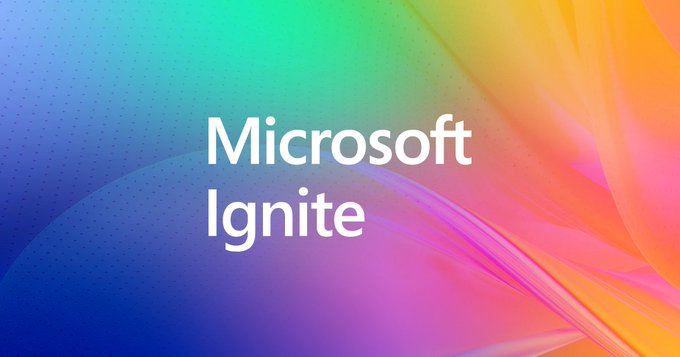 It's that time of year again!
Ignite is Microsoft's annual conference for developers and IT pros. Always brimming with big announcements, engaging keynotes, and interesting discussions.
It is no surprise that AI (and Microsoft's Copilot) has underpinned not only most of the conversation, but most of the announcements too.
Let's dive into 7 of the biggest and most exciting things that Microsoft have announced at this year's conference:
1. Introducing SharePoint Premium
SharePoint Premium has been described by Microsoft as where "AI meets content management." Giving people a brand new set of tools to allow them to not only achieve more using AI, but get their content ready for Copilot too.
What will SharePoint Premium do?

Give Copilot better information to leverage

Provide information workers with new content experience in the flow of work

Expand content management within Microsoft 365
SharePoint Premium is now in preview and will be generally available early 2024.


2. Heaps of new Microsoft Teams features
Now with more than 320 million users worldwide, Microsoft Teams has become a crucial tool for collaboration and communication in the modern world. And with the ever-growing platform features continue to make both of these things even easier than ever.

Here are just some of the new Microsoft Teams features announced at Microsoft Ignite 2023:
Voice Isolation

will leverage AI to suppresses other people's voices in the background during a Teams meeting or call.

Decorate Your Background

uses – you guessed it, the power of AI - to generate a background that decorates and enhances the real-world room that a person is in. Helping people to "show up at their best even when the space they're working from isn't at it's best." This feature will only be available in Teams Premium.

Default Reactions

will allow each user to customise their default reactions within Teams chats, saving time having to search for your favourite emojis!

Forwarding messages will also be rolled out, making sharing Teams messages with other colleagues easier than ever

These are just some of the 20+ new features that have been announced for Microsoft Teams!
You can find out more by clicking through to this blog post:

What's new in Microsoft Teams | Microsoft Tech Community Blog
3. Microsoft Copilot for Sales and Copilot for Service
The brand new Copilot for Sales and Copilot Service are both designed to help these functions revolutionise their business processes – all with AI.

Copilot for Sales is already available, with Microsoft reporting that it is already being used by over 15,000 organisations. Enabling sellers by bringing AI into the apps they use every single day. Within Teams, for example, Sales Copilot will create meeting recaps by surfacing actions and KPIs. Furthermore, it can create meeting briefs in Word including a summary of the account and opportunity, names of meeting participants and more.
Service Copilot on the other hand, has been created to enable contact centres. Boosting productivity and improving outcomes of customer interactions. Customer Service Agents will be able to ask Copilot for Service questions in natural language, receiving relevant insights pulled directly from their own data.

You can find out more about Services Copilot in this new video!


Sounds exciting, huh?!

4. Microsoft Copilot in Microsoft 365
Of course a lot of the talk at Ignite 2023 has been around Copilot within Microsoft 365.
Set to become our own personal AI assistants, Copilot within Microsoft 365 could absolutely revolutionise the way we work.
Heaps of exciting features have been shared, including the ability for Copilot to turn verbal discussions into written visual Whiteboards. The ability for it to create meeting notes for you, and share them with all participants after the meeting has ended. In Outlook, it will even be able to prepare you for meetings and schedule follow ups for you. All with the click of a button.

While many of these things have been heard before, Microsoft Copilot Dashboard has just been announced. Which will become a tool for leaders to gain useful insight into how Copilot is affecting their organisation. It will enable leaders to both drive adoption of Copilot - and measure its impact. Crucial for determining ROI.
5. To Do, Planner, and Project to all be combined
Microsoft To Do, Microsoft Planner and Microsoft Project are all going to be combined, brought together into one unified experience called Microsoft Planner.

Made available in the Planner app in Microsoft Teams in spring 2024, it will be assisted by AI. The three main benefits stated for this move are "simplicity, flexibility, and scalability."

You can find out more about this new Planner experience here:

The new Microsoft Planner | Microsoft Tech Community Blog
6.Immersive Spaces in Microsoft Teams
Immersive Spaces – which are already in preview – will be coming to Microsoft Teams early 2024. From custom avatars to 3D environments and even virtual seat selection, immersive spaces are designed to boost engagement and reduce meeting fatigue.
7. A new era of content creation with Microsoft Clipchamp and Microsoft Designer for commercial customers
Previously only available for use through personal accounts, Microsoft Designer and Microsoft Clipchamp are both now being made available for commercial customers.

With heaps of AI-assisted features, both apps will give people the tools they need to create stunning visuals and captivating videos without needing any professional experience. Thanks to their user-friendly UI and simple to use tools.
A preview of the Designer app is coming soon, followed by general availability later next year. Clipchamp for Work is is now generally available for commercial customers.
Final thoughts – AI is here to enhance, not replace
These announcements leave you feeling certain that AI is here to stay. And that it is going to revolutionise work in ways we perhaps can't even begin to imagine yet. From new features to fresh integrations, AI is going to enhance how we collaborate, communicate and create.
It's not here to replace. At least, not yet. We've all seen iRobot...
But instead to streamline processes, boost productivity, and give us more time to do the things we actually care about at work.
Are you ready to explore AI in Microsoft 365?
If you're confused about what this all means and where you even start, you are definitely not alone. While all of these new advances are exciting, they can be daunting, too. Hable are here to take the complex and make it simple. Explaining things in terms both you and your people actually understand. So that you can focus on what really matters: doing great work.
Reach out to us today for a helping hand.