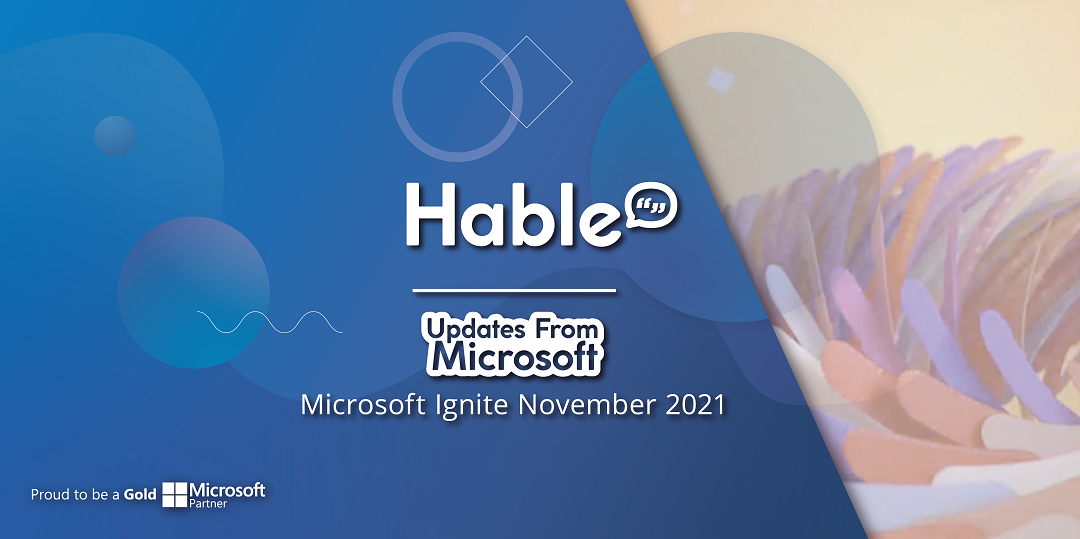 Stepping into the 'metaverse' with Mesh for Teams
With the pandemic forcing a move to remote working for many of us, Microsoft have been empowering their research teams to get a deeper understanding into the impacts of this on workers. They've found that people miss the every day interactions that you get in an office; hellos in the hallway, chats at the coffee machine.
So, what is the Microsoft solution to this very modern problem? Mesh for Teams.
Rolling out in 2022, this feature will combine the capabilities of Microsoft Mesh with the productivity tools of Microsoft Teams. It builds on the features we've come to rely on to make our meetings more engaging, such as Together Mode, to make virtual meetings more fun and personal.
Mesh for Teams has also been described as a "gateway to the metaverse." This might be a word you've been hearing more and more of recently, referring to a new vision for the internet that is home to digital versions of places, things and even people.
How will Mesh for Teams make meetings more engaging?
Provide the ability to join meetings as a custom avatar

Allow organisations to build virtual spaces within Teams

Participate in virtual social mixers

Give the feeling of being together, even when apart
"I love how Microsoft Mesh can recreate the human connection in a virtual reality manner," says Paul Dredge, our Senior Technical Consultant. "It's something that we have all missed through remote working."
This is definitely one of the most exciting top announcements from Ignite for us at #TeamHable; it feels like the next logical step into the future of communication and collaboration at work.
Bringing teams together with Microsoft Loop
Another big announcement is the launch of Microsoft Loop, a new productivity app to enable teams to create and innovate together wherever they're working from. Spilt into three elements – Loop components, Loop pages, and Loop workspaces – it will start rolling out as soon as this month across apps like Teams, Outlook, and OneNote.
What is Microsoft Loop?
Loop components: refers to "units of productivity" across Microsoft 365 to help users collaborate. As part of the Loop announcement, Microsoft are releasing two new components, voting table and status tracker.

Loop pages: collaborative spaces that allow everyone to connect and participate wherever they are in the world. Users will be able to pull in files, links, images and other data.

Loop workspaces: are at the heart of a project. These workspaces are going to be the place where users can catch up on what everyone is working on, react to others' ideas, or track progress toward project goals.
While there's not much more information out there about Loop yet, it feels like a really exciting tool that will help to boost creativity and productivity in the modern hybrid working world.
Collaborate seamlessly with Microsoft Teams Connect
Microsoft have been talking about shared, cross-organisational Teams experiences for a while, which looks like it may be getting a little easier soon with 'Microsoft Teams Connect' feature.
Teams Connect will remove barriers between organisations and will allow anyone to collaborate securely, no matter who they work for.
"I think Teams Connect looks absolutely huge," says Chris Thackray, our Education Sector Lead. "It's going to be great for us and our customers."
When creating a new channel users will be able to select a new 'shared channel,' allowing any individual or even entire team to work together in the same digital environment. Whether that's customers, suppliers or partners, everyone can collaborate and communicate in the same virtual space.

Microsoft Viva Suite is ready to purchase
Last but not least on our list of top announcements from Ignite, is the ability to now buy Microsoft Viva as a full Suite!
Designed to ensure employees stay engaged and empowered even when working away from the office, Viva is a huge development in the employee experience space. At Ignite, Microsoft announced that a number of integrations for Viva Learning and Viva Connections are now available, and that new experiences will be coming to Connections soon. More importantly though, is that Microsoft Viva is now available to buy as a suite, comprising the four modules: Connections, Topics, Learning and Insights.
It's no secret that we're huge fans of Microsoft Viva here at #TeamHable – we've talked about it a lot already and even got in house Microsoft Viva Specialists! Being able to purchase this as a suite is a really exciting time for organisations, allowing them to elevate their employee experience at scale.

Please get in touch if you'd like to have a chat about deploying Viva across your teams. You can also find out more about our Viva services here.
Questions about announcements from Ignite 2021?
We have Microsoft 365 experts across #TeamHable who would be more than happy to chat to you about these updates and developments. Please don't hesitate to get in touch.