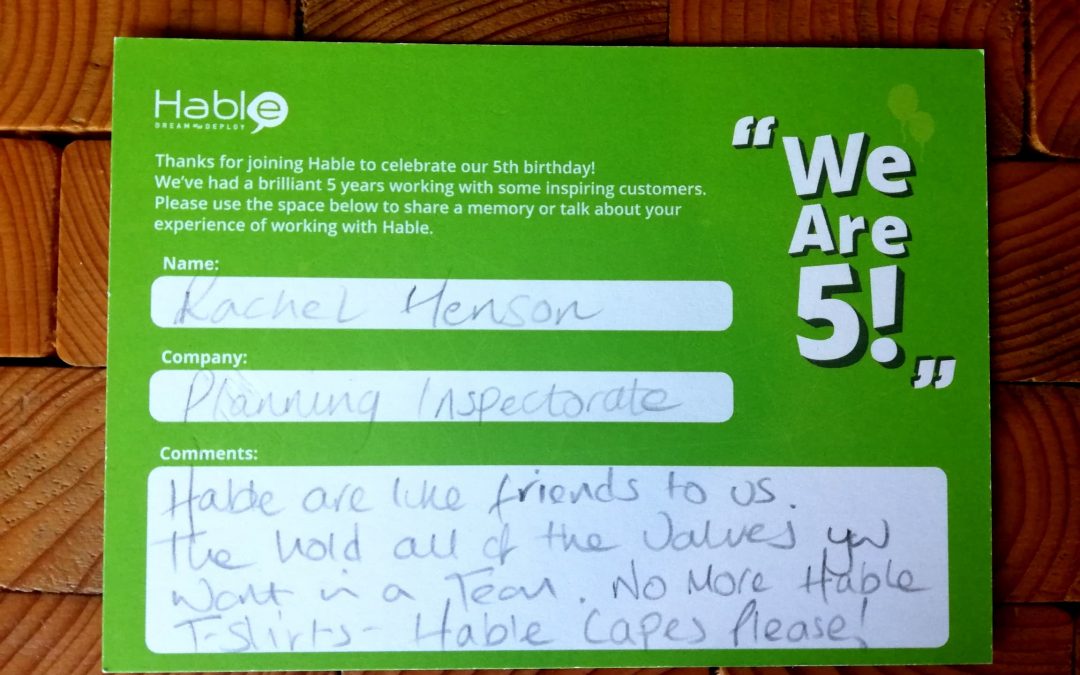 One of the best things about our birthday celebrations was not only getting all #TeamHable employees together, but seeing so many of #TeamHable customers who we've worked with over the years.
We've loved reading through some of the messages left on our "We Are 5" cards, so we thought we'd share a collection of them with you all here…
"Hable was the catalyst for our #DigitalJourney. Without their wisdom, experience and technical wizardry, we couldn't have made the most of the cloud." – Tim Mace, Queen Anne's School
"A unique and professional set of people who have shown a real talent for understanding our needs and delivering value." – Sam Dowsett Browse, NYK
"So happy to have engaged with a company that matches our ethos so closely – looking forward to much more." – Lucy Waide, Oundle
"The individuals from Hable feel like part of our team. Thank you for your honesty and guidance!" – Roni, Homes England
"I am so happy that Hable are working with us on our digitalisation journey. The value is amazing and together with have "enhabled" transformation!" – Simon Hopkins, NYK
"When I bailed Mark out at the ISBA – he invited me to dinner and handily forgot his wallet!" – Richard Grice, Bradley College
"Great, dynamic team. Proactive. Keep up the good work!" – Jeremy Coulinge, GTR
"Happy Birthday to Mark and a very special team. To the next 5 years!" – Ian, The Haberdashers' Aske's Boys School
"Very happy to be able to celebrate with Hable. Mark and his team have always been amongst our most welcome speakers!" – Tessa Newton, ISBA
"Ever supportive, always there when we need them." – Tim Davies, Kings College School, Wimbledon
Cheers guys! We are genuinely so grateful to have worked with such a fantastic group of clients in our first 5 years.
We can't wait to continue these valuable partnerships and to find out who else we will welcome into the #TeamHable family in the next 5! Thanks again to everyone who came down and celebrated with us.
#TeamHable