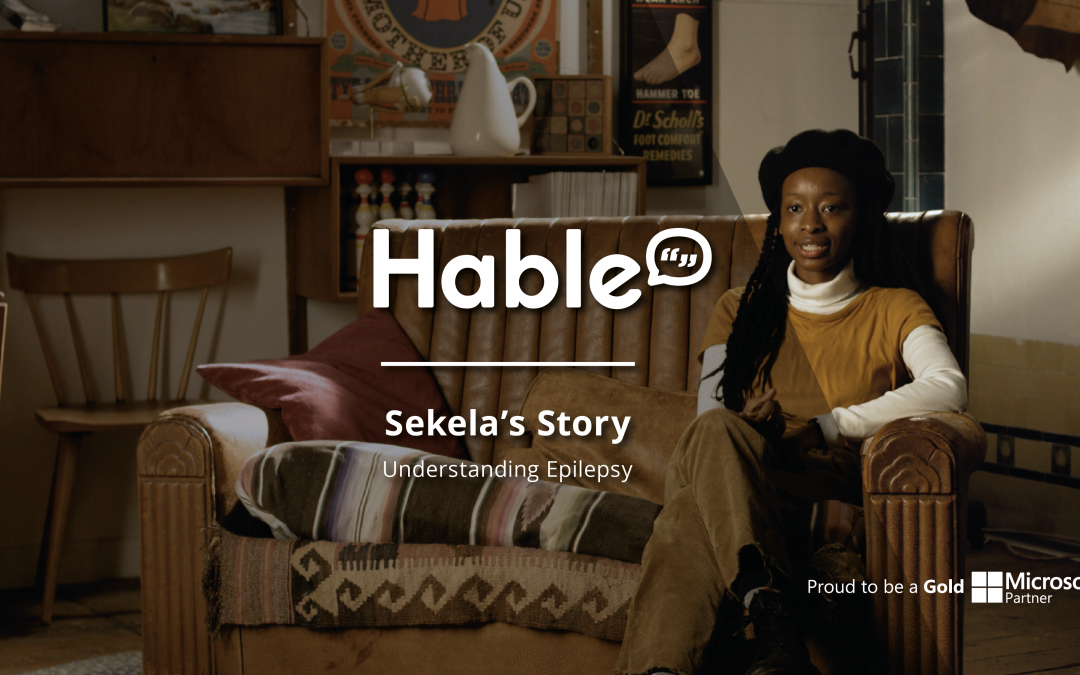 Back in the summer of 2020, we were thrilled to have Sekela Ngamilo join #TeamHable as a Graphic Design Intern. While with us, she worked closely with our marketing and content teams in the creation of materials for Universities and Students.
During this time, Sekela opened up about being diagnosed with epilepsy; something that currently affects around 600,000 people in the UK.
To help raise awareness on International Epilepsy Day, both she and the rest of #TeamHable wanted to share her inspirational story. Watch this video interview with Sekela, and find out more about her epilepsy journey below.
Being diagnosed with epilepsy
One of the most common neurological conditions in the world, the impact of epilepsy can vary considerably from person to person. It can be difficult to diagnose, with the charity Epilepsy Research UK stating the importance of early and accurate diagnosis in the ongoing treatment of the condition.
Sekela was diagnosed with epilepsy in the summer of 2018, when she was right in the middle of exams.
"I was in the middle of my A Levels and felt like I'd already failed," Sekela says. "In the end I didn't, and [the diagnosis] was actually a major relief because I knew what was happening."
Despite receiving the diagnosis during exams and living with the stresses that come from the condition, Sekela continued to do extremely well in her A Levels and went on to secure a place at the University of Oxford to study Law.
"I was able to work through it with my friends and my family. And also talk to a Doctor about the best ways to deal with it."
How Microsoft technologies can help manage epilepsy
In many cases, epilepsy related seizures can be controlled with medication, and there are several other techniques such as CBT, nerve stimulation therapy and even certain diets that may help to manage the condition.
There's also an increasing number of technologies available that make day-to-day life easier for those living with epilepsy – Microsoft talked some years ago now about the ways in which they had started helping people with epilepsy through tech.
Technology is something Sekela has turned to, and it's helped her in many different ways.
"I could use MyAnalytics to look at the way that I've been working," she explained. "It helped me develop better working habits."
The MyAnalytics nudges function gave her helpful reminds to have breaks or eat lunch; something so simple that can have a huge impact on our overall health and wellbeing if we neglect it.
She also often used Focus assist, a Microsoft function that allows you to mute notifications and avoid distractions when you need to stay focused, helping to improve concentration and productivity.
"It manages your notifications so that you're not too distracted, but also so that you're not overwhelmed."
Supporting people with disabilities at work
Accessibility and inclusion are really important for us at Hable, and we are always learning about the ways in which we can continue to create an inclusive environment for each and every member of the team. As we often say in our webinars and training sessions, 'we make a conscious effort to include everyone, otherwise we unconsciously exclude.'
"Working at Hable is great," Sekela shares. "They are Disability Confident which makes me disability confident."
This is something we are immensely proud of. Being a
Disability Confident
employer is a way for us to show our commitment to building a truly inclusive culture that supports and encourages people no matter what health conditions they may have. As well, it brings top talent into the company that we may otherwise lose out on.
"Hable encouraged me to talk about my epilepsy, which even led to me delivering a talk at Microsoft about accessibility. It really showed me that they care."
When asked about what she had learnt through her experience working in an environment where she was encouraged to embrace her condition, Sekela said:
"I realised that my disability doesn't hinder me. And, it doesn't hinder the company I work for either. Actually, I bring new things to the table because of my unique experience and perspectives."