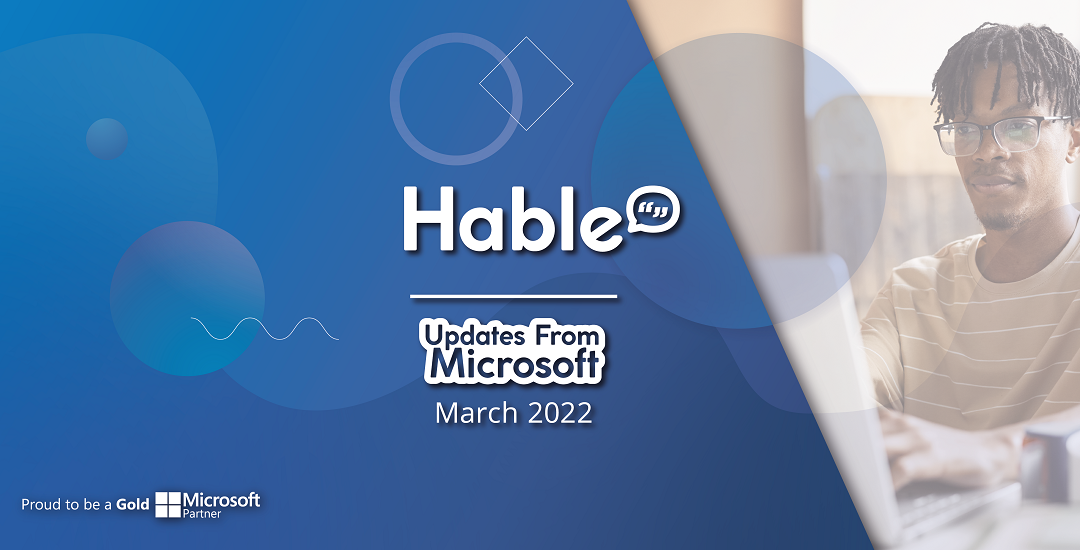 In our March update, we take a look at a new live camera integration for your PowerPoint presentations, how Viva Learning can sync with your LMS, and some new features to enhance your Microsoft Teams experience.
What's new in Microsoft 365? Updates for March 2022
Integrate a live camera feed into your presentation
In February, Microsoft announced that you can now integrate live video feeds into your presentation with Cameo, offering a fantastic way to create a more interactive and immersive experience for your audience.

As with any other image, you can move, resize, crop, and apply transitions to the camera feed element. You can also choose different camera styles for your feed, including the shape and border you'd like to include.

Find out more about this feature and how to use Cameo for PowerPoint here.
Viva Learning can now sync with learning management systems (LMS)
In an exciting update to Viva Learning – one of the modules that makes up Viva Connections – it can now sync with your organisation's learning management systems (LMS), allowing employees to view learning assignments and even launch them all in one place.
This sync also means that employees will get Teams notifications when they receive a new assignment and a reminder when the assignment is due, meaning that learning never gets left behind.
Get suggestions on Yammer communities and people to follow
In order to help users discover communities and conversations that are relevant and matter to your work, Yammer will now suggest communities to join and people to follow based on your previous interactions.
This will all happen directly in your Yammer feed.
Hide your own video in Microsoft Teams meetings
Looking at your own video feed in meetings: some love it, some really don't. As good as it can be to see what we look like, it can also be a distraction. So, Microsoft Teams has come up with a solution.
Now, users are able to hide their own video in a Microsoft Teams meeting, while remaining visible to other participants. A great new feature for those who prefer not to see their own video feed during conversations!
Local time added to people profile
As teams are becoming more and more distributed, Microsoft has now added local time to contact cards within Microsoft Teams. Checking colleagues' time zones not only enables you to time your messages to get a faster response, while remaining considerate of different schedules.
Improve the way you use Microsoft 365 at your organisation
Interested in the features we've highlighted here? Want to know more about how you can unlock the power of Microsoft 365 within your organisation? We have Microsoft 365 experts across #TeamHable who would be more than happy to chat to you about these exciting updates and developments.
Talk to a member of our team and unlock the power of Microsoft 365 within your organisation.