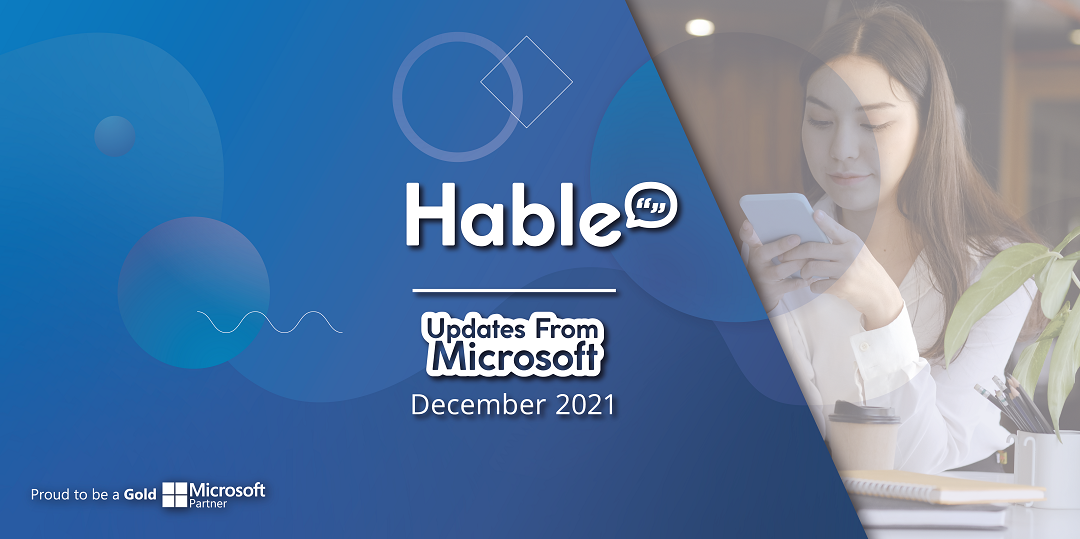 This month, we take a look at the new Accessibility Ribbon in PowerPoint, Feedback for Microsoft 365 Apps and new features coming to Microsoft Teams.
Check out what's new from Microsoft in December 2021:
Accessibility Ribbon in PowerPoint
Microsoft have always been hugely committed to accessibility, using the power of technology to ensure people of all abilities can achieve and succeed. The Accessibility Ribbon in PowerPoint is yet another fantastic step forward from Microsoft in ensuring everyone is making content that is more accessible.
Complimenting the Accessibility Checker tool, the ribbon brings together all of the tools users need to help create more accessible presentations.
Feedback for Microsoft 365 Apps & Services
Feedback for Microsoft 365 apps and service is a brand new community feedback experience, providing one single central place where users can go to provide feedback about all things Microsoft 365.
Working similar to a forum, users will be able to submit new feedback for the community, weigh in on items posted by others, and comment on existing topics.
Currently, Feedback is available to all customers everywhere in English, with support for other languages planned for 2022.
Find out more about Feedback for Microsoft 365.
Content From Camera in Microsoft Teams
Built with the world of Hybrid Work in mind, the Content From Camera feature in Microsoft Teams will help meeting attendees who aren't physically in the room feel more included and engaged.
With intelligent capture, this will allow presenters to share content from physical whiteboards and documents in a high-quality way during meetings. The intelligent content capture technology will detect, crop, and frame the asset ensuring everyone in the meeting can see it clearly.
As more meetings happen in a hybrid way with some people in the room physically and others dialling in remotely, this is going to be a fantastic feature to make meetings more engaging.
Read more about Content From Camera on Microsoft Teams here
Improving Search on Microsoft Teams
There have been a number of enhancements announced to the search function in Microsoft Teams, making it easier for people to find what they need.

The new 'Top Hits' feature will appears at the top of search results, providing the most relevant content results across all areas of Teams including people, group chats, teams, channels, and files. There is also going to be a newly redesigned search results page that will use AI to provide faster and more relevant search results, which will be based on the people and content an individual user engages with most in Teams and other Microsoft 365 applications.

Read more about the new and improved search features on Microsoft Teams
Unlocking the full potential of Microsoft 365
Interested by these features? At Hable we are experts in ensuring your people are making the most out of Microsoft 365 and reaching their full potential with the platform.
Get in touch with a member of the team today to start exploring the art of the possible.
Click the subscribe button below to get monthly Microsoft updates straight to your inbox!