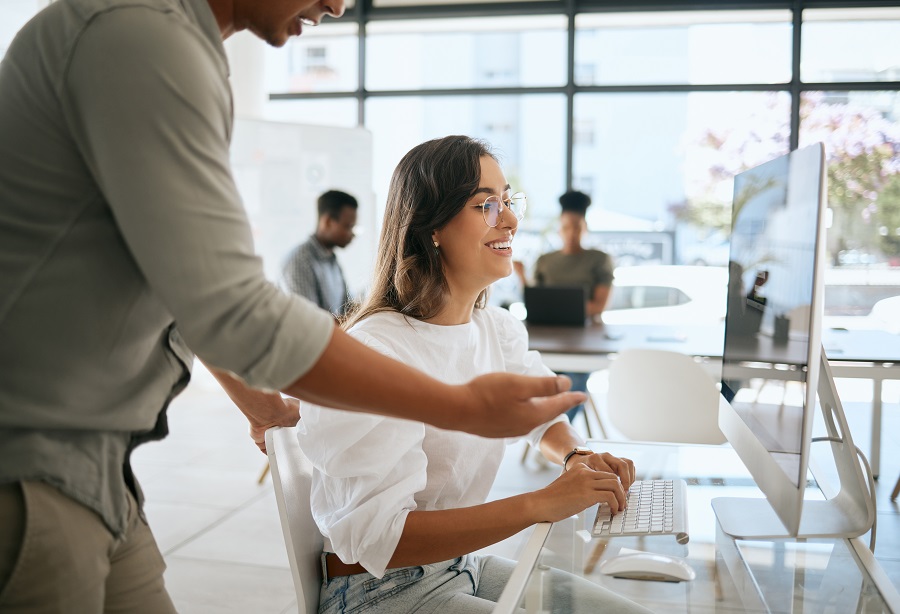 What are digital champions?
A digital champion is someone within your business who is passionate about helping their co workers learn, building digital confidence and skills of the people around them.
Digital champions are either nominated by a team member or volunteer, before being trained by inhouse or external experts on how best to support their colleagues.
Digital champions don't need to be tech experts, but do need to feel comfortable helping people who have less knowledge than they do. They also need to be patient, understanding and be confident in their skills.
Why have digital champions? What are the benefits?
There are a number of benefits to having digital champions as part of your next transformation project:
1. Improve digital skills across your organisation
With this research from World Skills UK showing that one in four (23%) employers feel their current workforce lacks the basic digital skills that they need, recruiting a network of champions across your organisation can be key to improving these skills.
By taking part in sessions with a digital champion, your people are encouraged and inspired to learn more about various digital skills relevant to their role.
2. Alleviate some of the pressure on your IT team
Through the improvements in digital knowledge and skills of individuals, along with having champions answer all those tricky questions, there will be a lot less pressure on your already-busy IT teams.
Freeing up time and allowing your IT team to focus on other, more pressing tasks.
3. Provide a lasting and meaningful learning experience
A digital champion can pick up where an expert trainer left off, creating a long-lasting change even after a change program has wrapped up. Would you rather learn from a trainer or your team mates?
According to this study by Degreed, more than half (55%) of people would turn to their colleagues for advice when wanting to learn something new.
4. Strengthen working relationships across your organisation
Pairing your people with champions is a great way to foster new links and strengthen working relationships across your organisation. People may get the opportunity to interact with new people from different departments, who they otherwise wouldn't meet.

From strong work relationships comes a whole host of other benefits too, including improved productivity, better collaboration, a boost in staff morale and overall wellbeing.
5. Ensure new technology investments are used to their full potential
Ultimately, recruiting digital champions helps to improve adoption, thus ensuring the investment you've made into new technology is being used to its full potential across the organisation.

Through peer-to-peer learning and 1:1 sessions, your champions programme could be key to making sure your new programmes, apps and processes are embraced at scale and for the long haul.
Download our digital champions infographic
We have put together this infographic to show the benefits to recruiting a network of digital champions as part of your next digital transformation project. Download it below!
How to recruit digital champions
If you are looking to reap the benefits of a digital champions network within your organisation, our experts at Hable are on hand to help you through this journey.
"Champions are a powerful part of any digital transformation project.
They have the ability to turn an IT project into something more; they are the voice for colleagues."

– Sital Champaneria, Principal Consultant, Hable
From an expertly crafted recruitment campaign, to training, and an action plan for your champions, Hable can do it all.
Interested in rolling out a digital champions network within your organisation?