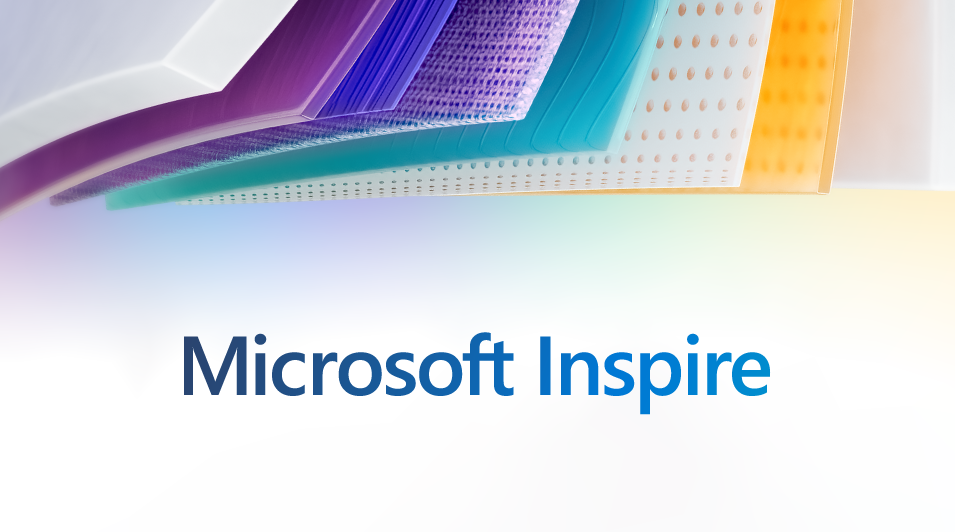 Microsoft kicked off its annual Inspire conference earlier this week, streaming live across the world from their HQ in Redmond, Washington. It was once again led by a powerful keynote from CEO Satya Nadella, who introduced the event and set the scene for what will no doubt be an exciting few days of important updates and discussions.
In this keynote alone, there were some announcements that could change the way millions of us work forever.
Let's dive in.
AI takes centre stage
It's no surprise that AI was the main focus of Nadella's address. He touched on how the strong ecosystem of Microsoft partners (now 400k+ organisations) can reach almost every community in the world. Enabling them to achieve success through new, generative AI technology.
"There is no question," Nadella said. "We are in the midst of a massive platform shift with a new generation of AI. It's going to transform pretty much every sector."
Bing Chat Enterprise announced
With a recent Work Trend Index report from Microsoft showing that 70% of people would delegate "as much work as possible to AI," it is clear that employees are more eager than ever to explore AI capabilities.
However, Microsoft recognised that organisations want to ensure their data is protected as they adopt these innovative technologies.
That's where Bing Chat Enterprise comes in.
"Bing Chat Enterprise gives your organisation AI-powered chat for work, with commercial data protection."
Think ChatGPT, but with added protection for organisations.
User and business data is protected. Chat data is not saved, and Microsoft has no access to what you're looking for.
That means you can use the powerful AI capabilities of Bing Chat Enterprise to analyse sensitive data, research industry insights, or simply find better answers to your questions. All without needing to worry about security.
How much will Bing Chat Enterprise cost? When will it be available?
Bing Chat Enterprise has begun rolling out in preview. It is included at no additional cost in Microsoft 365 E3, E5, Business Standard and Business Premium.
In the future, it will also be available as a stand-alone feature for $5 per user, per month.
Microsoft 365 Copilot pricing is revealed
Following the incredibly exciting announcement of Microsoft 365 Copilot back in March, organisations and techhies alike have been itching to find out more about getting their hands on this powerful AI tool.
Sadly, they'll have to wait a little longer. As Microsoft didn't announce when Copilot will be generally available during the keynote.
They did however, confirm pricing for Microsoft 365 Copilot.
It's not cheap. Coming in at $30 per user per month for Microsoft 365 E3, E5, Business Standard and Business Premium customers.
It will certainly be interesting to see how many businesses get the return on investment they want with this powerful tool.
AI Cloud Partner Programme launched
With Inspire being primarily a partner conference, celebrating successes and sharing partner opportunities was a big part of the opening keynote.
One of the other significant announcements of the session was the launch of the AI Cloud Partner Programme. Empowering partners to 'deliver customer value while leveraging Microsoft AI and the Microsoft Cloud.'
Partners will get the value and benefits of the previous program (Cloud Partner Programme) plus access to new AI specific offers and benefits. All existing organisations within the Cloud Partner Programme have automatically been moved into the new program, effective immediately.
You can find out more here on the AI Cloud Partner Programme via the Microsoft website: AI Cloud Partner Programme | Microsoft.com
Visual Search in Bing Chat
Finally, an exciting new feature within Bing Chat has been revealed, leveraging OpenAI's GPT-4 model. But taking it one step further.

Visual Search is another exciting and revolutionary step within AI from Microsoft. With this feature, you can now upload images and search the entire web for related content.

How might I use Visual Search?
The applications and possibilities of this are at this stage unknown. But there are certainly some exciting use cases. Take a picture and ask Bing to tell you about it. Find a picture from elsewhere and get Bing to answer questions about it. You can even take a picture of the contents of your fridge, and Visual Chat will give you recipes based on the food you have.

When will Visual Search be available?
Visual Search in Chat is rolling out now, via desktop and the Bing mobile app.

Microsoft Inspire 2023 Keynote – Final thoughts
AI tools and technologies continue to be at the forefront for Microsoft. With the capabilities growing all the time, we are on the brink of a major change in how we all work and live.
While what we may be able to do with AI may still largely be unknown, one thing is for sure: it's incredibly exciting.