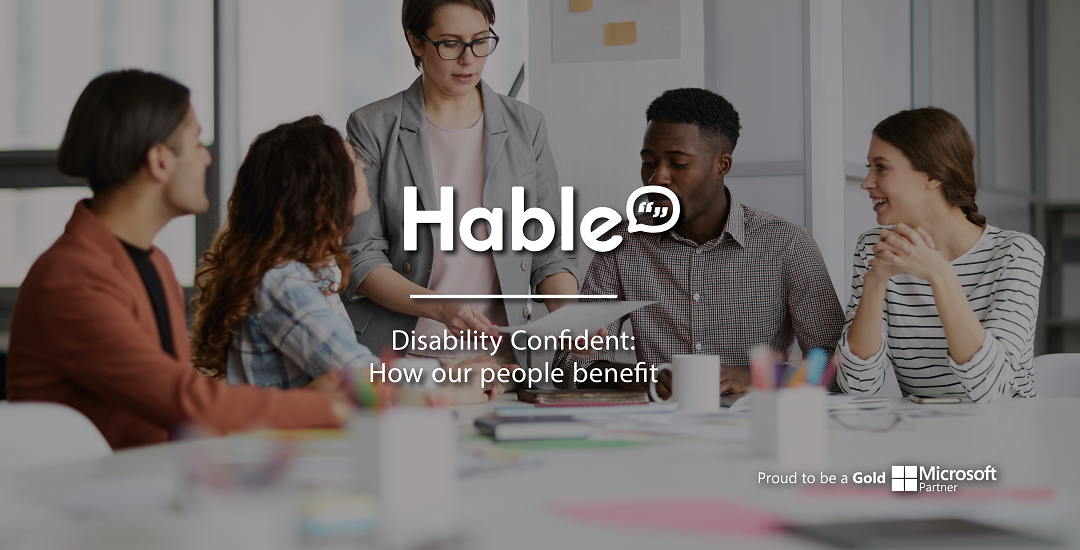 At the beginning of this year, we announced that we had achieved Disability Confident Leader status, progressing through from Level 1 (Disability Confident Committed) and Level 2 (Disability Confident Employer). Reaching this point has been an interesting process, one that required a lot of self-reflection on where we are and what we are doing.
Attracting talent we wouldn't otherwise attract
We know that being Disability Confident has attracted current employees to Hable, giving them a sense of ease when applying for roles with us.
"When I was first looking at Hable and considering applying, seeing that they are a Disability Confident company did make me feel more comfortable," says one employee. "It made me feel as though the company would be willing and happy to accommodate me should I have any problems during my employment."
Not only are we benefitting by attracting candidates from a wider pool of talent, but they feel more comfortable too; seeing the Disability Confident status lets them know they don't have to hide any part of themselves when they come to work with us.
Improving the confidence of people with disabilities
One of the other key things we've noticed is that the Disability Confident status and work associated with this, has actually helped to improve the confidence of our people who are living with disabilities.
"Working at Hable is great because they're Disability Confident, and that made me Disability Confident," says Sekela, our former Design Intern. "My disability doesn't hinder me and it doesn't hinder the company that I work for either – I actually bring new things to the table because of my unique perspective and experiences."
Continuing our work as a Disability Confident Leader
While we're proud of the progress we've made so far in becoming a Disability Confident Leader, there is more that we want to achieve. We look forward to continuing to build on this commitment both internally and externally, while always championing inclusion, diversity and accessibility issues.
If you would like to learn more about taking your next step on a Disability Confident journey or want to raise awareness about accessibility in your organisation, please feel free to reach out to me!