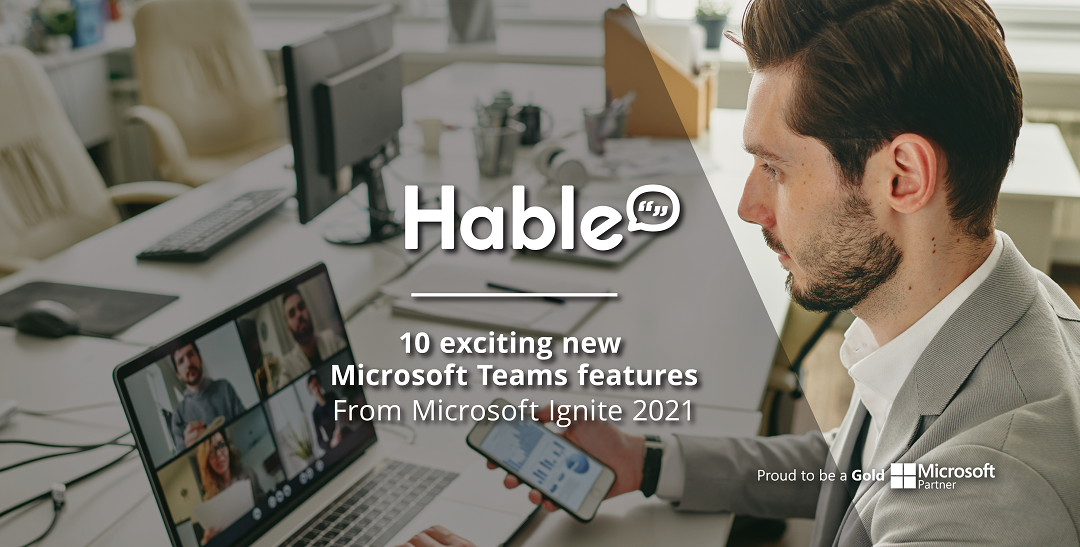 One of the most exciting announcements from Ignite so far was the number of new features coming to Microsoft Teams, which aim to 'help people connect, collaborate, and accomplish more together.' We're all using video conferencing more and more, with a huge 96% of remote workers in the UK saying they currently have up to 4 virtual meetings a day, with each of these lasting around an hour!
As virtual meetings continue to be such a huge part of our lives, it's important that the companies behind this software continue to innovate, and rollout more features to make our meetings more engaging. Here we take a look at 10 features coming to Teams that we're most excited about.
1. View Switcher feature in Teams Meeting
A new view switcher is coming to the top bar of Teams meetings, which will give you the power to control how you see the meeting and its content.
'Together Mode' will offer users the option to interact naturally with their colleagues without visual distractions, while 'Gallery' will display video feeds at the top of your meeting and 'Focus' will hide video feeds, putting all of the attention on shared content. There will be a Full screen option too, which will remove any other desktop distractions.
Offering customisation and the ability for people to see meetings in the way that best suits them, view switcher is likely to make some big improvements to productivity and collaboration.
2.
Microsoft Teams P
resenter mode
The new Presenter mode is really exciting, bringing the production of presentations on Teams up to the next level, creating a sleeker and more professional feel for audiences.
Available soon, with this feature presenters will be able to customise how video and content appear to the audience. We're particularly excited to try out the 'Reporter Mode' option, which places content above your shoulder, much like you might see on the news.
With the new way of working often meaning that Teams meetings fall back-to-back, Presenter mode seems like it's going to be a fantastic way to help improve engagement in meetings.

3. Live reactions in
Microsoft Teams meetings
Another way that Microsoft are trying to make meetings more engaging is with the rollout of the new Live Reactions feature. Along with the option to 'Raise Hand,' users can now also choose to express themselves with 'like', 'love', 'applause', and 'laugh' too!
This is another fantastic step by Microsoft to help make meetings feel more interactive; which is perhaps one of the biggest challenges when everything is virtual. It's also a great way for people to convey their emotions, opinions and feelings about various points without having to verbally interrupt the flow of the meeting; instead, they make it known by choosing a reaction.
We're really looking forward to using this one over the coming weeks and seeing how it might help to improve engagement in meetings.
4. Making it easier to run webinars on

Microsoft Teams
With live events now being banned for the best part of a year due to the ongoing COVID19 pandemic, webinars have seen a huge increase in popularity. Because of this, Microsoft are introducing a whole new range features and tools to help make running webinars through Teams much easier:
– Custom attendee registration to manage attendance
– Ability to automatically send an email confirmation to attendees for a simple join experience
– Support for webinars of up to 1,000 attendees, including moderation controls to disable chat, audio, and video.
– Attendee reporting to improve understanding of attendee participation such as who attended and how long they participated
As a company with learning and knowledge sharing at its core – and one that runs our fair share of events – we're really excited about these new webinar capabilities on Teams and look forward to both attending and hosting more sophisticated Teams webinars in the future!
5.
Task publishing checklist and editing capabilities
The Tasks app in teams is brilliant, enabling simple task tracking and management without having to download or sign up for another programme or software.

With this new Task publishing feature, your organisation can publish task lists which are targeted to specific locations and specific teams.

The organisation can then add a checklist to the tasks they publish, enabling them to include details on what needs to get done within each task. Field or frontline workers would then have a simple mobile experience, where they will see all of the tasks assigned to them – they'll be able to attach photos to show their work and mark their tasks as completed.

This is going to be a fantastic way to improve the productivity and communication between office and field based teams.
6. Enhancements to the Teams mobile app
As an organisation that often uses Teams on the move, we're really looking forward to seeing the enhancements to the Teams mobile app.

Coming first to iOS before Android, it's due to have some visual updates including new headers and icons, as well as the ability to automatically switch to dark theme when you set your device appearance setting to dark!

We're excited to see the roll out of the ability to access files stored in Teams while offline, something which will come in very handy when we're all allowed to travel around the country again. The expanded library of emojis and the ability to trim GIFs directly in the Teams app will also be interesting, helping to improve the engagement in meetings and chats while on-the-go.

7. Disabling attendees videos during Teams meetings
One of the best new Microsoft Teams features announced is the ability to disable videos during a Teams meeting; a fantastic way to remove any unwanted distractions that might come up.

This feature gives the users the power to disable the video of an individual or even all other attendees – it will be good to see this rolling out later this year.
8. Microsoft Teams low data mode
A new Low Data Mode is immediately available on the Microsoft Teams mobile app, meaning that whether you want to preserve data or are in a location with a poor connection, you are able to limit the amount of data being used during a video call.
For anyone who often takes calls on the mobile app, this feature is incredibly useful, allowing users to cap the amount of data that will be used during video calls.
9. Teams automation capabilities
With the way of work becoming more and more fast paced, we're all big fans of automation and using technology to make processes quicker and easier.
So, Microsoft's announcement that automation capabilities are coming to Teams is one that we certainly welcome! Starting this month, users of Team will be able to "create an action from a message," enabling you to make a workflow directly from the message using Power Automate.
Power Automate is a program that allows you to create workflows, thus streamlining repetitive tasks and processes and freeing up time. This in turn increases productivity and wellbeing across your organisation. If you're new to this, don't worry: Microsoft have also announced that they are releasing Power Automate templates to the Teams app store, providing an easy starting point for your automation workflows.
Integrating with Microsoft Teams and other Microsoft 365 apps, we are – in the words of our Commercial Sales Executive Sarah Barber – absolutely "giddy about this!"
Microsoft Viva is yet another exciting development in the future of the modern workplace, bringing tools for employee engagement, learning, wellbeing and knowledge discovery directly into the M365 apps that users are already working in every day.
Microsoft Viva is split into four modules; Connections, Insights Learning and Topics. You can find out more about Microsoft Viva and why we're so excited about in our recent blogpost 'What is Microsoft Viva and how might it help my organisation?'
Excited about all of the new Microsoft Teams features on the way?
So are we! Get in touch with #TeamHable and find out how we can help your organisation make the most of Microsoft Teams, including all of these amazing new features and capabilities!