What Hable did:
Assessed current state of working

Delivered an engaging internal comms campaign

Produced learning resources to support self-learning

Provided a dedicated Workplace Coach to provide 1:1 support
Surrey Heartlands CCG were already progressing through their digital transformation journey and moving away from traditional ways of working. Looking at closing 4 of their offices in favour of more collaborative workplaces, and using programmes like Teams to improve efficiencies.
Microsoft 365 was a large transition piece for Surrey Heartlands, and we came in to lend a helping hand.
It was our job to 'change the hearts and minds' of their people, helping every staff member embrace smarter ways of working. They also wanted us to help improve collaboration and communication with other organisations.
We started by identifying the current state of working and defining what a future state could look like. We used a defined set of personas to determine the best solutions. for the rest of the project.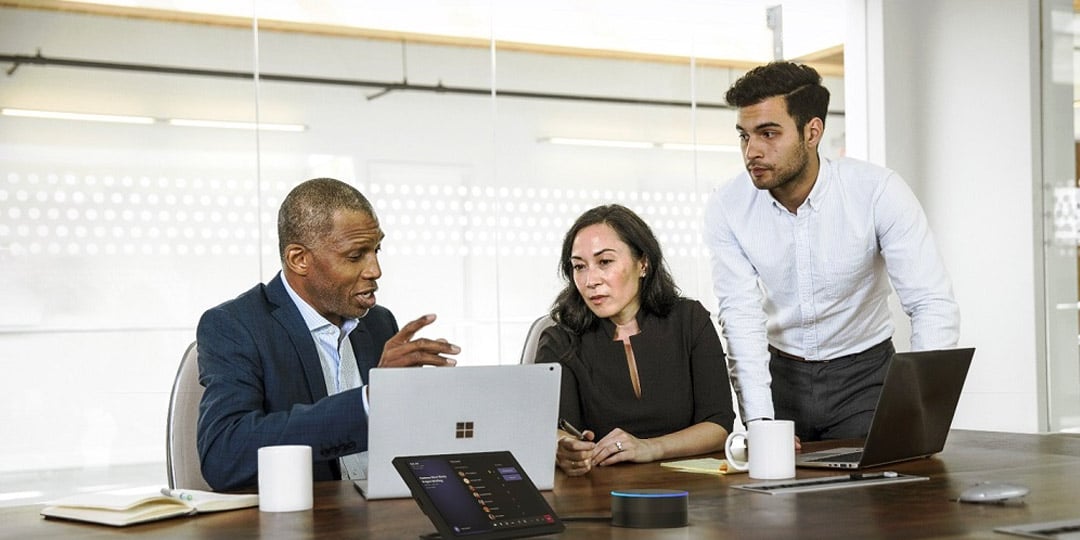 Our internal Creative team put together an engaging internal comms campaign to help raise awareness of the benefits of new ways of working. Posters, eye-catching digital banners, a branded slide deck and email templates were among the pack we delivered.
We provided a set of informative learning tools to support self leaning. With help-guides, an FAQ document and infographic style resources to encourage a more modern way of collaboration and communication.
This was all supported by our workplace coaching. 1:1 support via Microsoft Teams for all 600 end-users across the CCG. This included tips and resources to help people develop their skills. A dedicated Microsoft Teams channel for troubleshooting and resolving queries. And a community for knowledge sharing.
We then helped Surrey Heartlands recruit their network of digital champions. We identifyied people who were suitable due to their listening skills, patience, and desire to help others. We then developed and delivered two bespoke training modules to help train them up. Teaching them everything they need to be successful champions for change.
"I've really appreciated the resilience and calmness from Hable. We have a really good working relationship that will help with the next phase of the project."

- Antony, Surrey Heartlands
The feedback so far has been positive. We've built some fantastic stakeholder relationships and been able to share knowledge successfully. We also discovered some interesting trends that will serve as useful learnings for phase 2 of the project. For example, the mentors required more app specific training as well as themed based courses.
This was a fantastic project to be part of and we look forward to building on the success of these strong foundations in the future
Unlocking the power of Microsoft 365
At Hable, we change the way people feel about technology. Through our range of adoption and change management services and package, we can improve the way your organisation works by unlocking the power of Microsoft 365.
For questions on how we can work with you to do this, get in touch; we'll be happy to help.
Discuss a project
Customer stories