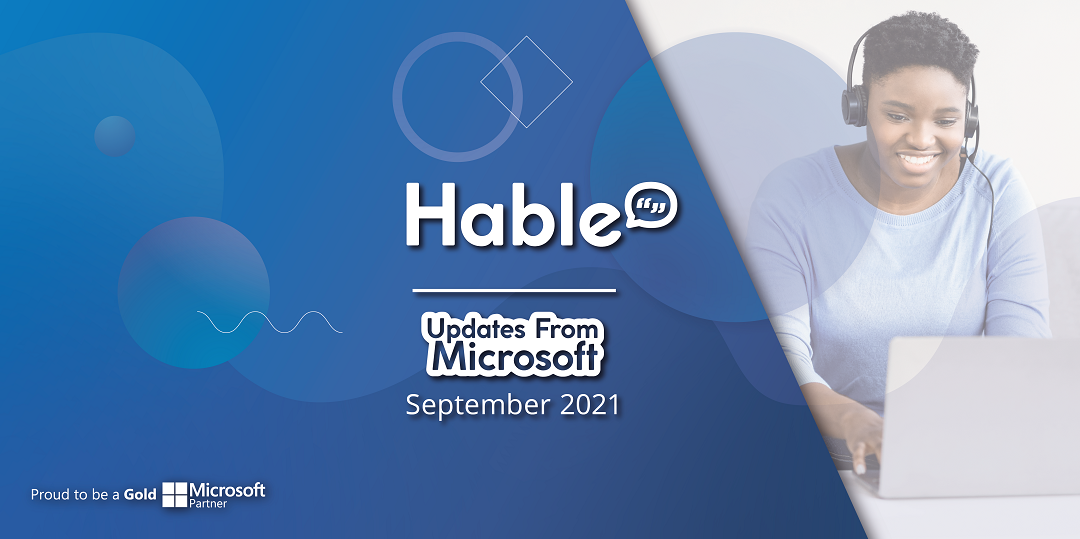 In this roundup, we've got a date for the Windows 11 release, some new features in Office, and brand new updates to enhance Microsoft Teams.
Check out what's new from Microsoft in September 2021:
Following on from the Windows 11 announcement back in June, Microsoft has now revealed that the new OS will launch later this year on October 5th.
It will be released on both existing compatible PCs as well as new PCs that will come with Windows 11 pre-installed.
The rollout of Windows 11 will be phased, meaning that people shouldn't expect to see the upgrade available right away on release day.
New features coming to Office 365
Microsoft are continually improving the Office 365 suite, offering new features and upgrades on the things we already know and love. Here's some of the latest updates to Office 365 that Microsoft have recently announced.
Editor in Outlook
Microsoft Editor, an AI-powered feature that helps to improve spelling and grammar in applications such as Word, has now been brought into Outlook for Windows.
Introduced in response to feedback from users, this pane will now be available in Outlook to allowing you to proof your emails for spelling/grammar issues and to refine and improve your writing style.

As said in the announcement post from Microsoft, if you have ever "dealt with an underlined spelling (red), grammar (blue), or stylistic (purple) suggestion in Outlook, you have already interacted with Editor!"
Read the full news release on Editor in Outlook.
Track 'just my changes' in Word
Getting improvements and suggestions from other people on key documents has been made possible by Track Changes for many years, and it's just been given a brand new upgrade.
Available on both Word for Windows and Word for Mac, users will be able to track their changes only, rather than the changes made by all of the people working on the document.
By default, all changes from all users are tracked when the Track Changes button is selected on the Review tab, but now, you'll be able to track your own changes without forcing other collaborators to track theirs.
You can read the full news release about this new Track Changes feature here.

Brand new in Microsoft Teams
Here are some of the useful updates that are coming to Microsoft Teams:
Starting recording and live transcript simultaneously
When you turn on recording in Teams, it will now automatically start live transcription, ensuring both are captured with just one click.
After your meeting, the recording & transcription will continue to be downloadable in the 'Recordings & Transcripts' tab of your meeting details.

Hide sensitive meeting names from shared spaces
In an effort to improve security and confidentiality within organisations, it's now possible for IT Admins to hide the names of sensitive Microsoft Teams meetings from shared, public spaces.

Instead, the meeting names will be replaced by the name of the meeting organiser, ensuring sensitive meetings are kept confidential.

Education – improved navigation in class Teams
A new view is available for all educators and students within Microsoft Teams.

Now, educators can easily access Assignments, Grades, Class Notebooks, and Insights from any channel within a class team – open up your class team and you'll see the new and improved navigation live!
Unlocking the full potential of Microsoft 365
Along with these exciting updates, the experts at Hable are full of knowledge, tips and tricks on making the most out of Microsoft 365 and reaching your full potential.
Get in touch with a member of the team today to start exploring the art of the possible.
Also, subscribe below to get monthly Microsoft updates straight to your inbox.