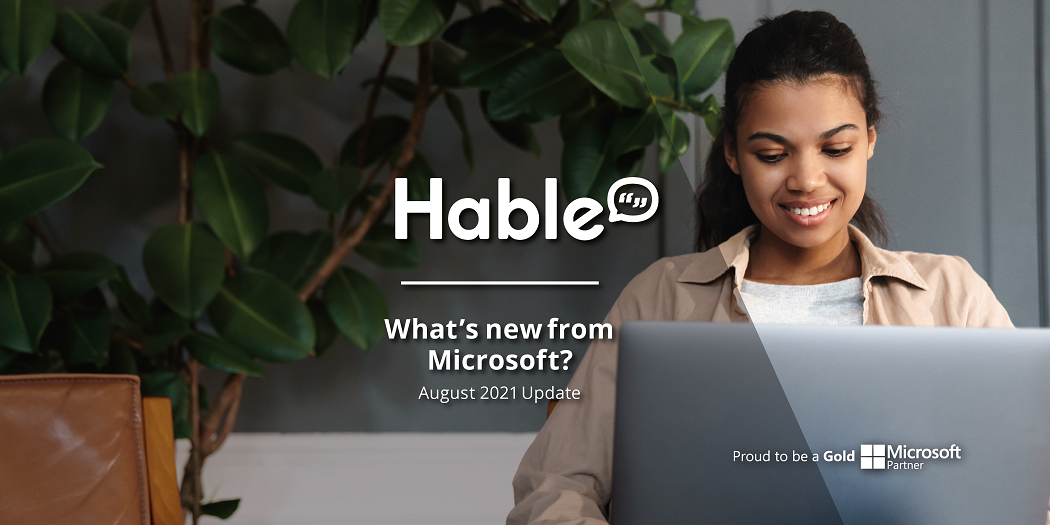 Windows 365 – everything you need to know
As a new way of working emerges across the world and we move towards a hybrid working model, organisations need to keep up with this trend and adopt the technology that will help facilitate it. With this, Microsoft have announced Windows 365, a cloud service that will offer a new way to experience Windows 10 or Windows 11. 
Using Windows 365, users will be able to stream their apps, data and settings to any of their personal or corporate devices, creating an entirely new computing category called Cloud PC.
In Microsoft's Windows 365 announcement blog, they said: "Cloud PC is an exciting new category of hybrid personal computing that turns any device into a personalised, productive and secure digital workspace."
One of the main benefits we can see with Windows 365 is that users will be able to log in and pick back up where they left off across any device, providing a simple way to work from any location, any time.
Windows 365 is now available to businesses of all sizes, with pricing reportedly starting at around $30 USD per user per month.
Changes to Microsoft Stream
Microsoft shared its new vision for Microsoft Stream, which is to empower users to create, share, discover, and manage video in the same way that they would with any other type of file.
The earlier version of Stream – which is being switched off from the 16th of August – will now be known as Microsoft Stream (Classic) with Stream (on SharePoint) being the name given to the new version.
This new, re-imagined version, will integrate seamlessly with applications across the Microsoft 365 suite, allowing users to create, share, discover, and manage video as easily as any Office document. There will be an updated, new look for the video player and video and audio files will now be stored on SharePoint within Microsoft 365 like all other file types. There will also be better analytics available to users and meeting recordings will be shareable with people inside and outside your organisation like any Office file.
You can find out more about what is new in Microsoft Stream here.
What is coming to Microsoft Teams?
On top of these, there have also been some exciting new announcements for Microsoft Teams which look to add yet more fantastic features to the platform.  
Slide
Translate
f
eature in
PowerPoint Liv
e presentations
The new Slide Translate feature, as the name suggests, allows attendees of Teams meetings to translate the slide show content into their own language if the presenter is using the PowerPoint Live feature.
The translation will only occur for the user requesting the translation, and doesn't interrupt the presenter or any of the other meeting attendees.
It's currently supported in nineteen languages, making it the perfect feature for multi-lingual meetings.
Improving literacy with Reading Progress in Teams
As a company that works very closely with educators, we're really excited about Reading Progress. This is a new app within Microsoft Teams that supports students in building literacy through independent reading practice.
So, how does it work?
Educators go into Teams and upload a reading passage as an assignment. Students then read the text out loud, creating an audio and video recording that their teacher can assess. Reading Progress will then also provide actionable insights for educators, including common challenges, across the entire class or per individual student. 
Reading Progress is a great way to not only save time for teachers, but for students to gain confidence and increase their skills.
New views in Teams meetings
Adding yet another way to make our Teams meetings more engaging, presenters will now have two presenter mode options when sharing their screen using the Teams Desktop app: Side-by-side and Reporter presenter modes. 
The new Side-by-side mode will see the presenter's video feed and content on a background image, whereas Reporter mode will see the presenter's video feed superimposed over the background image while having the content over their shoulder, much like a news reporter!
Unlocking the full potential of Microsoft 365
Along with these exciting updates, the experts at Hable are full of knowledge, tips and tricks on making the most out of Microsoft 365 and reaching your full potential.
Get in touch with a member of the team today if you'd like a chat!
Also, subscribe below to get monthly Microsoft updates straight to your inbox.