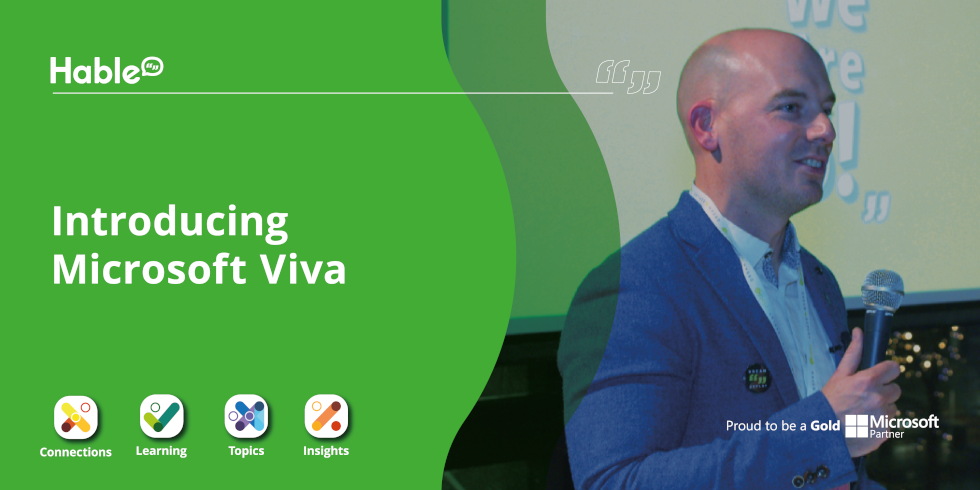 This platform is yet another exciting development in the future of the modern workplace, bringing tools for employee engagement, learning, wellbeing and knowledge discovery directly into the M365 apps that your people are already working in every day.
"At a time when organisations are figuring out what work looks like, Microsoft Viva gives companies the platform to put their people first."

– Sean O'Shea, Managing Director, Hable
Microsoft Viva is split into four modules; Connections, Insights Learning and Topics. Let's take a closer look into each of them below
What is Microsoft Viva Connections?
Viva Connections is all about ensuring your employees stay engaged with your company, and has been described by Microsoft as the 'gateway to a modern employee experience.' Designed with the modern world of work in mind, it allows employees to stay informed no matter where they might be working.
Appearing in the apps that employees already use every day such as Microsoft Teams, Connections is personalised to your organisation and tailored to each individual.
Powered by Sharepoint, it gives people a curated, company-branded experience on a personalised feed of relevant news, announcements and conversations. The custom dashboard connects individuals to company tools and resources across the digital workplace, keeping everyone from frontline workers to leaders engaged.
Our Senior Technical Consultant Paul Dredge, said about this module:
"Rather than the information being hidden away in SharePoint or Yammer, Connections will bring it to the forefront; the content will be much more visible for people across organisations."
What is Microsoft Viva Insights?
The Insights module of Viva is something we're really excited about at Hable, as it centres around something we're very passionate about; wellbeing and encouraging healthy working habits.
People are working in ways they never have before, and with that comes the importance of organisations looking after their wellbeing. After all, a happy team is a productive team.
That's where Viva Insights comes in.
Available to download as an app in Teams immediately, Viva Insights gives individuals, managers, and leaders personalized and actionable insights that help them and their teams to be their best selves at work. In order to protect privacy, personal insights are visible only to the individual.
For managers and leaders, the Insights dashboard will easily identify where teams may be struggling, provide visibility on work patterns, and share statistics on employee burnout; all of these can help lead to fostering a culture of wellbeing at work.
In the coming months, Microsoft have shared their plans for additional 'personal wellbeing experiences' in Insights, including a virtual commute feature, and an integration with health and happiness app Headspace for meditation and mindfulness.
"Insights has a big focus on wellbeing. It's really going to help boost productivity, as it'll reveal patterns in how people work and offer assistance in how we can achieve more."

– Paul Dredge, Senior Technical Consultant, Hable
What is Microsoft Viva Learning?
As a company with learning at its core, #TeamHable are very excited about the introduction of Microsoft Viva Learning; a central hub for learning across your organisation.
With 94% of employees saying they would stay at a company longer if it invested in their learning and development, Microsoft makes this easy by bringing learning to the space where your people already spend their time. With this, Microsoft are aiming to make learning a natural part of the workday.
Viva Learning is all about providing opportunities for employees to gain new skills and thus, contribute to the ongoing success of your organisation. It will aggregate lessons from sources around the web that your teams are already familiar with, like LinkedIn Learning, Microsoft Learn, and Coursera.
Individuals will be able to organize and share lessons as they would with any other type of content, in Teams chats, channels, and tabs, where they are already used to collaborating every day.
Teams and groups of people can also organize their own learning tab with customized, relevant learning content.
With Viva Learning, managers and leaders will also have the ability to assign courses to particular individuals, promoting a culture of learning and growth across the organisation.
This is a fantastic new tool from Microsoft, who share Hable's passion for learning and knowledge sharing.
What is Microsoft Viva Topics?
All about empowering people with knowledge and expertise, Viva Topics uses AI to provide relevant information on different subjects without the need for searching or switching between apps.
When Viva identifies a topic within a M365 app such as Teams, it automatically collects and curates content from across your systems into a Topics Page, where your people will be able to easily access information such as:
The definition of the topic
Recommended and suggested people to contact
Key documents relevant to the topic
Related sites and teams
Related topics
This information can be edited and updated in a similar way to a Wikipedia entry.
Viva Topics is set to be a fantastic way to connect individuals with the knowledge experts in their organisation, improving productivity and collaboration across an organisation's teams.
How much does Microsoft Viva cost?
Something that is worth mentioning is that these modules
do
come at a cost.
Viva Insights needs MyAnalytics licencing for personal insights and if you want the manager and leader capabilities, you'll need to have a Workplace Analytics licence, too.
Topics comes at a $5 per user per month cost and also sits separately from SharePoint Syntex licencing.
Learning does come as a free resource, but it's worth noting that there will be additional costs if you want to use plug-in subscriptions for learning platforms such as Pluralsight etc.
Microsoft are yet to release a pricing model for Connections, but watch this space!
Introducing Microsoft Viva to your organisation
While it's still early days in the Microsoft Viva journey, we can be sure that the future of this platform is truly an exciting one.
To see how Microsoft Viva could make a difference to you and your organisation, get in touch with a member of #TeamHable today on:
info@hable.co.uk