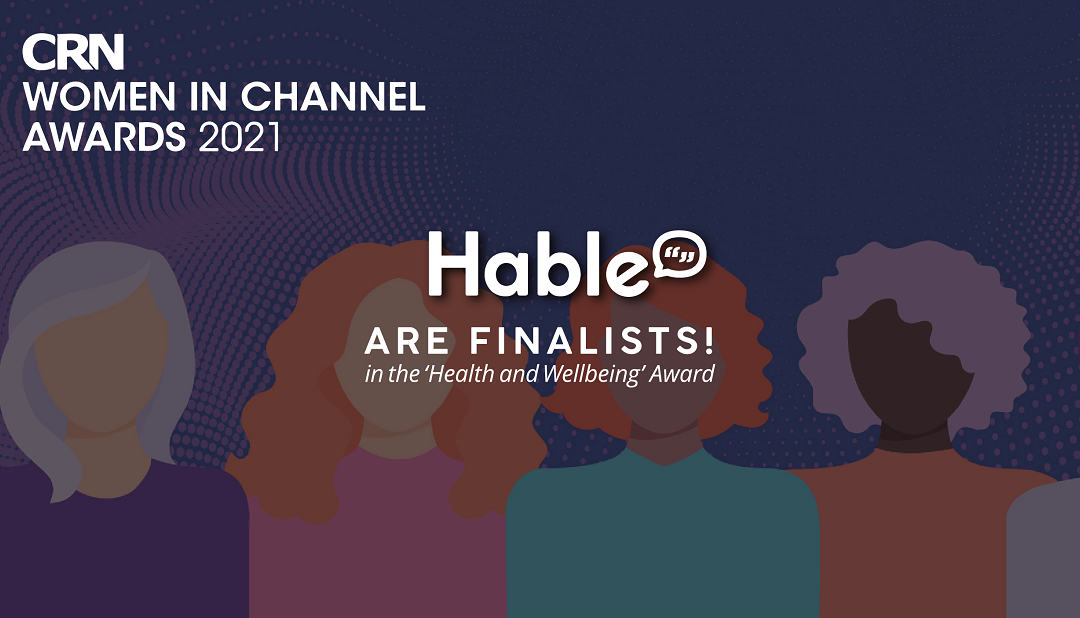 Following on from our recent announcement that five women across Hable were nominated for CRN Women in Channel Awards, we could not be happier to share that three have been shortlisted as finalists!
But that's not all… we are also extremely excited to announce that Hable have been named as finalists in the Health and Wellbeing Award!
Now in their 4th year, the CRN Women in Channel Awards are held to both recognise and celebrate the accomplishments of women who work in the UK tech industry, with the aim of inspiring the next generation of young women and girls into pursuing tech careers.
CRN Women in Channel Health and Wellbeing Award Finalists
The Health and Wellbeing award is intended to recognise an organisation that puts the wellbeing of its people at the forefront; something we certainly feel we prioritise at Hable.
I'm delighted that awards like this exist. Promoting and recognising companies for putting the health and wellbeing of their people first has never been as important as it is today. At Hable we learn from our people every day as their needs change and evolve along with the environment in which we're all working in. To be successful as a company we have to create the right culture in which our people can thrive, so their health and wellbeing is not a 'nice thing to do,' it's core to our companies success.

- Sean O'Shea, Managing Director
In our submission, we shared some of the ways that we've supported staff's health and wellbeing over the past year, the wellbeing initiatives we've introduced, and some of the statistics we've collected about how our people feel about their mental health at work.
Here are some of the wellbeing initiatives that we're most proud of over the last 12 months:
Hable Walks – An extra day off for every member of the team to enjoy some time outside, in nature – see pictures here!
Hable Talks special – A special Mental Health episode of our podcast, featuring an honest chat about mental health struggles with our Managing Director Sean O'Shea – listen here!

Mental Health Awareness Week – a week of internally raising awareness of mental health issues and honest discussion

Supporting wellbeing through tech – A conversation with our former Design Intern, Sekela, on how tech helped her manage her epilepsy illness – watch the video here.
We're extremely proud and excited to have been recognised in a category for something we are so passionate about.
Meet Hable's CRN Women in Channel Awards 2021 FINALISTS!
Along with our company-wide award, we're delighted that three of our nominated women are shortlisted as FINALISTS!
A huge congratulations to:
Sital Champaneria – Unsung Hero Award

Rosie Hall – Marketing Employee of the Year Award

Sarah Mann – Role Model of the Year
We look forward to finding out the winners at the CRN Women in Channel Awards 2021 ceremony, which takes place on the 14th October in London.