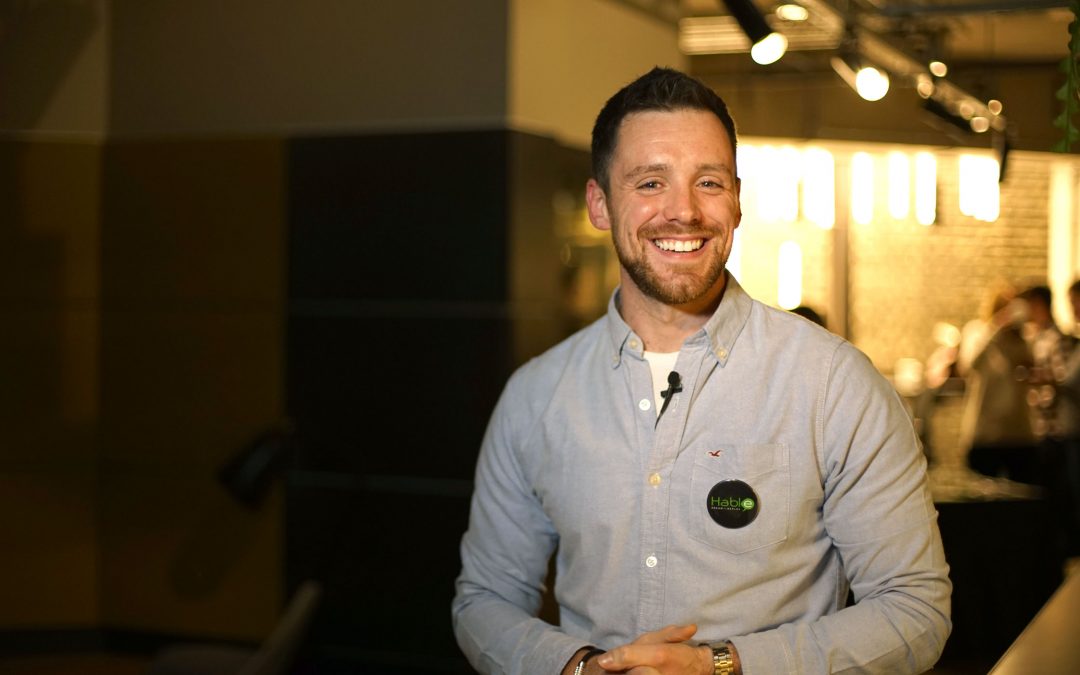 #TeamHable Interview: Nathan Rhodes Celebrates One Year at Hable
Our Government Sector Lead, Nathan Rhodes, takes some time out to reflect on his journey so far as he celebrates one year with #TeamHable
Hey Nathan! Congrats on reaching your one year milestone at #TeamHable. Let's take this opportunity to share more about you, starting with your professional life before Hable. What were you doing?
I previously worked at the National Audit Office where I was a Chartered Accountant and Central Government auditor before moving internally to the Engagement & Change team. The latter was much more my forté, and I got to assist in change projects across the National Audit Office, developing communication and change plans, training and supporting collateral. The final project I led was their Microsoft 365 rollout, it was here I knew I'd found my passion. I wanted to learn more about change management, so took several qualifications to further my knowledge. One of which was the PROSCI ADKAR change management course, where I met Hable's managing director Sean O'Shea. Soon after, I joined Hable!
What attracted you to the company & made you leave behind your career at NAO?
One of the main attractions was being given a position where I could truly influence the size, scale and direction the organisation could go within the Government sector. Having so much freedom to express the way I work, the way I think and how I apply my knowledge to a project is truly what gave me a lot of confidence. I was hired to be me, not for me to conform to a pre-set role.
I thoroughly enjoyed the Microsoft 365 rollout project at the NAO, so to work for a Microsoft Gold Partner using and promoting the best tools in the market just added to my enthusiasm.
The element that attracted me the most were the people that I got to meet. Our founder and managing director made it feel like the perfect culture to work in – and my assumptions weren't wrong. Trusting, caring and pushing me to be better in my job has made this year the best of my working career.
It's been quite a whirlwind year as we've been helping our customers adapt throughout the pandemic. What difficulties have you seen government customers facing during this time & how do you see the landscape within government changing looking ahead?
Much of the Government sector was not prepared for the masses to work remotely – both from a technological point of view and a cultural perspective. However, what I thought was brilliant about the Government sector's response to the pandemic, was how they supported their colleagues not just to work effectively, but in a way that supports wellbeing and inclusivity.
What it has uncovered is that we need to continually strive for more effective and efficient ways of working with the limited resources available. I see a large movement towards 'Teams as a platform' where we are looking at effective use of apps that are integrated into M365. This streamlines workflow and makes data easy to access and transfer. I also see a big move towards automation, which will reduce intensive admin and out of date processes.
Nathan speaking at our Teams Live event – People & Tech: Navigating the New Normal in Local Regional Government.
Any stand-out moments over the past year?
There are so many from the last year, but if I have to mention a few…
Supporting Houses of Parliament with their rapid release of Microsoft Teams in response to the pandemic. To see a major Central Government Department continue to operate effectively in a remote setting made all the late nights and extra hours pay off.
Coming from a non-sales background, I was apprehensive about the sales element of my role. However, the success I've had over the past year selling and evangelising about Hable's services has been great. But of course, my first sell was a big moment for me.
Hosting and speaking at events with Microsoft all over the country has been a thrilling experience and one I've really enjoyed. Through sharing our experiences and insights, we've been able to help many of our customers to use their M365 environment more effectively.
Best part of being a member of #TeamHable?
Everyone in Hable has been hired for a purpose, hired for their specialism and is utilised in the right way. To be among such high performing yet highly empathetic people makes Hable's culture and working ethos the best I've ever seen and worked in.
Can you give us an outline of a typical 'day in the life' of Hable's government sector lead (if such a thing is possible)
Very tough question. My typical activities will be speaking to the operations team to monitor our project spend and assess if we've got the right things booked in. I will be talking with our technical services team to understand new updates and create relevant services to offer to our customers. I will be undertaking account management activities by checking in with customers to ensure their requirements and standards are being met by our team. I regularly speak to potential new customers with Microsoft, assessing if our services can help in their upcoming Microsoft 365 projects. I will also be checking in with our current project teams to support them in rolling out our change management plans and offering advice on their delivery.
A few facts about Nathan….
Educational background
I graduated from the University of Birmingham with honors in Accounting & Finance BSc.
Favourite Microsoft Product
OneNote! I like to plan, make notes and keep it all in one central place. OneNote has been incredible for that.
Favourite book
Shoe Dog – I loved reading about how Nike was founded, the obstacles that were overcome and how one person's mindset can influence an entire industry.
Website I check everyday
LinkedIn. It's my version of Facebook. I love a good blog read or checking out the latest updates on people's projects.
Childhood memory
Going to the driving range with my Grandad. We loved watching and playing golf. Every time I'm on the course I think of him and feel connected to some of my happiest memories.
Best advice I've received
Given to me by Steve Mirfin, Head of Learning & Development at NAO – the most important person in my career. He said:
Never underestimate what comes easy to you, your ability to see how actions impact others and how people react and learn in different ways does not come naturally to others.
He was the person that got me into Change Management based on this line alone. I'm forever indebted to his guidance and council.
Do you see the role of what Hable does for government clients evolving & changing looking ahead?
Absolutely, at some point most, if not all organisations in government will be on and using Microsoft 365 to a very high standard. So we are planning for the future by looking ahead to what they will need next. We have recently partnered with Nulia as a new way to reinforce learning, making individuals more self sufficient in their use of these tools.
We are also investing time and resources into our technical services team to develop automation support for organisations. For example, developing bespoke apps for organisations to use, creating new automated processes to remove admin intensive and paper based activities, and generally looking at how we can support organisations in this hybrid state of office and home working arrangements.
There is so much that can be done with Microsoft 365 and with its ever evolving nature – there are always more ways to help organisations run better… and we will be here to help them!
A big thanks to Nathan for taking the time to do this interview & on behalf of everybody at Hable, for being such a fantastic teammate!
Happy one year anniversary Nathan!