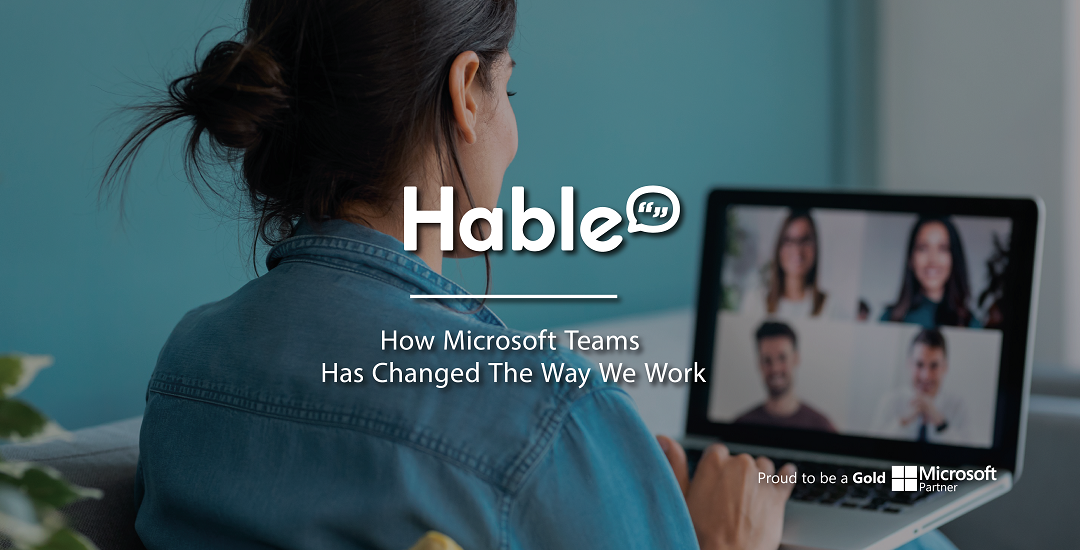 At the start of 2020, none of us could ever have imagined the huge impact virtual meeting platforms would have on our day-to-day communications, both at work and in our personal lives. While this technology has been vital for a long time now, the COVID19 pandemic catapulted programmes like Teams right to the top of our productivity tools lists, with many businesses growing to rely on them to continue operating during lockdowns. The number of daily active Microsoft Teams users almost doubled between April 2020 – 2021, increasing from 75 million users to 145 million!
With a recent study showing that Microsoft Teams has saved NHS staff 2.9 million hours, we wanted to see how else Teams has changed the way people worked. We asked peers across various sectors and industries to tell us exactly how Teams has transformed the way they work for the better.
Here's what they said:
1. It helps build human connections
"One of the largest complaints from remote workers is they feel isolated and disconnected from their team. Having collaborative software can help these remote workers develop those human connections they otherwise miss out on when not working in office. Microsoft Teams is a great way to achieve that goal.
At My E-learning World, we use Teams to collaborate with one another on everything from content decisions to research. Along the way, there's room for more personal conversation, which helps with that connection we all seek, whether we know it or not."
Scott Winstead, Founder, My eLearning World
2. Teams provides seamless collaboration
"I think one of the best parts of Microsoft Teams is that it's a single collaboration space for you and your team. Because we're such a distributed company, it's easy to get isolated in your own silo (your office, or even just your desk). The fact that I can have a conversation with my teammates right from within the same client is awesome.
Because it's integrated with the rest of Office 365, you can stay true to the tools your team uses every day. That way you don't have to switch contexts or lose that flow state when working on an attachment in OneDrive or changing a presentation in PowerPoint."
Jamie Irwin, Director, Straight Up Search
3. Work on a national scale without barriers
"After the pandemic forced most government employees to work remotely, Microsoft Teams made connecting with coworkers across the country so much easier than going back and forth over emails. It's also been a fun space to share family photos or memes, where it would probably have been weird to send a mass email to the group to interrupt their inbox and look at your cat!

It's given us a one-stop shop platform for staying connected with colleagues, both for quick messages and group meetings. I'm also able to message anyone working in my organisation and I'd say it's one of the fastest ways to meet people! The great thing about the migration to Microsoft Teams and everyone being virtual is now we're all on an even playing field. We've been able to prove, through Teams, that federal government work can be done nationwide and remotely."
Diyyinah Jamora, Social Media Analyst, Indigenous Services Canada
4. It enables workers in the hybrid world
"As a small business, being able to work efficiently is super important to us. We are growing rapidly, and at the time of implementing Microsoft Teams, our team was hybrid with people working both remotely as well as on site. We needed a system that would allow us to work together, communicate and share information seamlessly, as though we were all in one location.
Prior to implementing Teams, I think our processes were pretty fragmented, and team members had information/documents saved locally onto their laptops or computers. Teams has changed all of that."
Sanjay Aggarwal, Founder, Spice Kitchen
5. Teams can help us prioritise our wellbeing
"Due to the forced changes in the way we work, there have been greater risks to individual wellbeing than ever before. Using Microsoft Teams functionality from Personal Viva Insights, people are empowered to protect their wellbeing while in the flow of their work.
There are features like Focus Time to block out disturbances, reminders to schedule 1:1 time with key people in your network to ensure we get that connection time like we use to in the office, and a virtual commute feature to de-stress at the end of the day by wrapping up all my outstanding tasks and listening to a short headspace session.
It's fantastic to have a platform that not only drives collaboration and communication, but also enables teams to manage their stress and stay on top of things that are important to them."
Nathan Rhodes, Government Sector Lead, Hable
Reshaping the modern workplace
As you can see from the experiences our peers, they've all been able to continue to thrive in different ways thanks to tools available in Teams.
Microsoft Teams has truly helped to transform the modern workplace – gone are the days of long and confusing email trails, duplicate versions of documents and clunky communications across multiple departments.
It has helped to create the workplace of the future; one that is collaborative, inclusive and connected.
Unlock the power of Microsoft Teams in your organisation
If you're interested in learning more about how Microsoft Teams could transform the way you work, or if you're already using it and want to get more from the tools available, get in touch with a member of Hable today.
Our Microsoft 365 experts are always happy to answer any questions you might have.