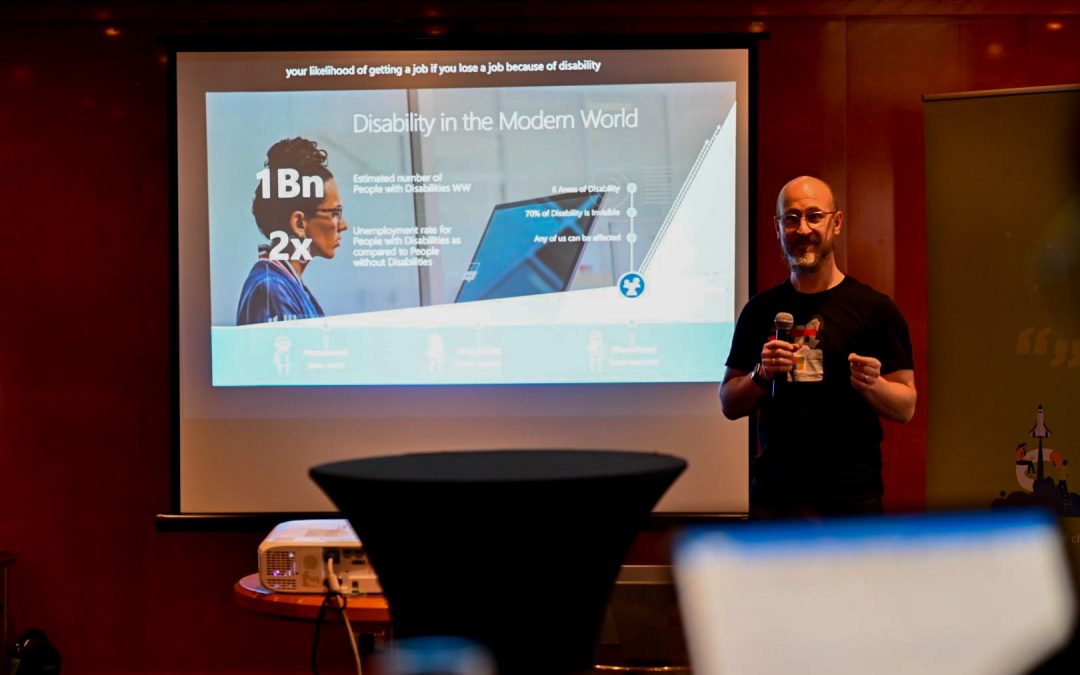 Microsoft's Accessibility Evangelist, Hector Minto, delivered a truly inspiring speech during our session "Why Accessibility Matters" at our #Bett2020 event. Every minute of his talk was packed with words of wisdom and inspiration on changing the narrative around Accessibility in the modern world and the need to make our society more inclusive for everybody. We have put together some of his main takeaways in this blog post…
This is a story all about confidence.
AI for Accessibility
"When people talk about Artificial Intelligence doing everything for us; taking our jobs, that's a very privileged position to take actually. Because disabled people see it in a very different way, if a computer can see for me, hear for me, think for me – it levels the playing field massively. Some of the most amazing innovation we see in the field of Artificial Intelligence is inspired and led by people with disabilities. Today's problem solvers. Disability has always driven innovation. Did you know that Alexandra Graham Bell's blind sister-in-law, couldn't read telegrams, and this is what inspired the telephone?
We've got to go back to basics and ask – who is excluded? That is what will drive innovation."
Find Real Adoption and Change Support
"Hable were the first partner, as I got into the partner network at Microsoft with this mission, who really understood that you go and see everyone. We're so used to, in the disability world, being reliant on luck – meeting a great teacher who tells you about the tools you need to be included. Or having a parent who argues and does research for you, to find the tools that will allow you to be successful. Or being in a special school's provision that really understands the specialist technology. But what happens, quite often, is that people with special needs, people with disabilities, go into the workplace and loose those contexts. And we don't live in a world where we use the same technology today that we did three years ago, never mind twenty years ago.
I actually had the privilege of working with professor Steven Hawking with his communication aid and I always remember the arguments I had with him about moving to a more modern voice and how much he threatened to sue me at the time saying, you will not move me onto a more modern voice, I will continue to use the tools I have always used. Which is fine if you're Professor Stephen Hawking, it's not fine for the rest of us. You have to keep your digital skills up to date, and there is no more obvious population who needs to do this than people with disabilities. You cannot leave school using the stuff you've always used and expect the world to mould around you. You will end up out of work.
The tools are changing before your eyes and you often won't even notice the updates – things get easier, but you're not actively being trained, you are constantly evolving with the tools around you. We've got to get this mindset into the world of disability – especially in the workplace.
When we started working with Hable, what was really interesting was that they were one of the early adopters to get this idea that we don't just go and ask to speak to the disabled customer, we make sure that accessibility is woven into every engagement. When we're on boarding people to the latest technology, we make sure that everybody knows about magnification, everybody knows about the immersive reader, everybody knows that Windows 10 has a word predictor built in.
Everybody knows that Windows 10 has a word predictor built in, right?"
"This is real adoption and change support, everybody has to find their own way."
What is disability?
"When you meet a deaf person, who is disabled? You or the deaf person?
Both of you. You are both disabled by that situation. You don't know how to do sign language, they are unable to communicate with you. You are both disabled and therefore the burden is shared. It's on both of you to sort that out if you want to succeed together.
Now, when I meet somebody that's deaf, I get my phone out and dictate into it, live captions will then appear on my smart watch which the deaf person can then read. I use technology to solve the mismatch, as long as the deaf person can read – and that's an assumption, as not all deaf people have great literacy. But, at least, I'm putting myself out there and saying, I want to talk to you.
Who else can we use this same approach with?
Non-native English language speakers. If an Arabic speaker would like to read a document written in English in his or her native language – we don't need to prepare in advance with the document in every single language, we can download a translator app where we input an image of the document and it converts it directly into Arabic.
Would you employ somebody who is blind as an administrator at your school or university? By the way, people who are blind go through their email inbox eight times quicker than I do. My blind colleagues have nothing in their inbox, because they are listening to them at eight times the speed, their typing skills are unbelievable and if you were to employ anyone as a school administrator, you would employ a blind person. I'm telling you now, all of our (Microsoft) tech support have blind people throughout. For our disability answer desk, we employ blind people. Doing tech support, the main communication method is email and the experts in email communication are our blind colleagues."
"We've got to change the narrative on this, we must stop talking about extra burden and start talking about talent."
Five Tips for Accessibility
Make sure you have an Accessible website
If you are a public sector organisation, you are required to have an accessible website by law. Ask yourselves if you know if your website is Accessible first, that's a great starting point. Microsoft have open sourced all their accessibility testing tools, so you can get a free tool from Microsoft that will let you know if your website is accessible or not. It's called Accessibility Insights.
Think of it as a filter. We now live in a world where anybody can right click on any website, click read aloud and listen to what it says on that website. This is built in, standard, normalised. We have done the heavy lifting for everybody's website in the world.
Everytime you buy technology you must ask "is this Accessible?" Champion this. If you are spending public money, you must ask this question by law, however it's not very well policed, so be a champion of this.
Keeps you oriented using maps, a blind person can navigate the outside world with greater ease. For someone who isn't blind, instead of looking at your phone to find your hotel, you can look at squirrels while finding you way there.
Stream auto transcribes your videos, these transcriptions are also translatable.
"We turn to technology to avoid exclusion."
– Hector Minto