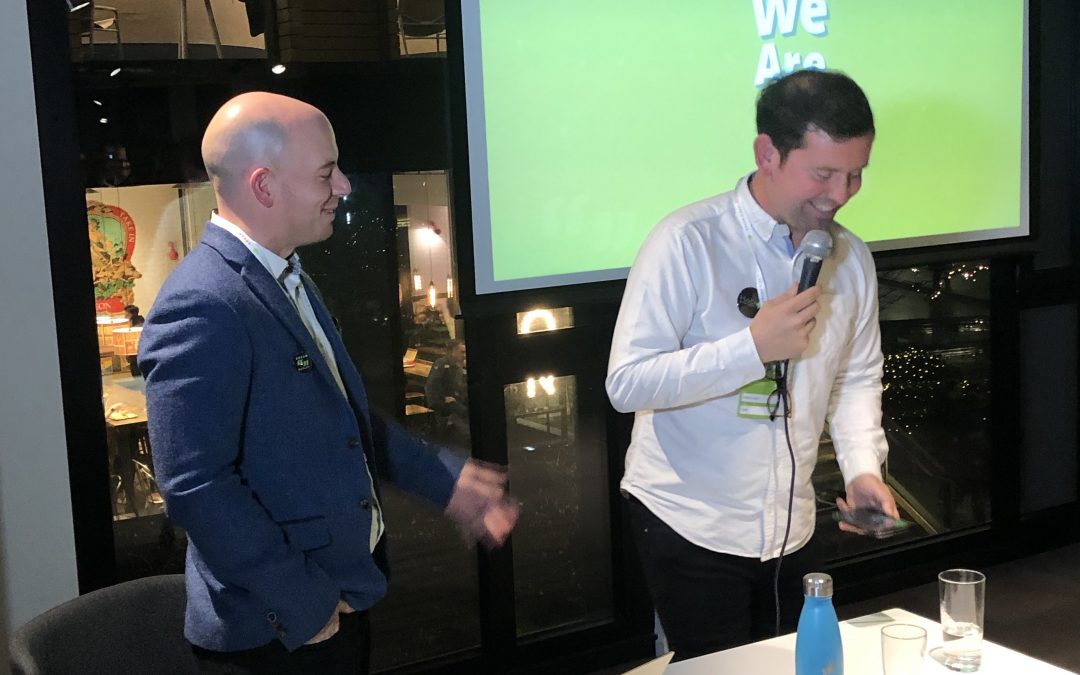 To celebrate this milestone birthday, we celebrated by getting our whole team, their partners and a number of our customers together for a party…
On December 10th, we held our 5th birthday bash down at The Office Group's The Stanley Building branch at Kings Cross, one of the great co-working spaces that #TeamHable regularly make use of. It was such a big moment for us being able to bring together so many people who have played a pivotal role in our journey so far. For a start, with our increasingly growing team spread throughout the country, it was an opportunity for us to get together in one place, with the added bonus of #TeamHable's partners coming along, making it a real Hable family gathering. It was also our great privilege to welcome so many of our wonderful customers who we have worked with over the years to join in with our celebrations.
Before the event got started, #TeamHable's Paul and Nicholas hosted a 'Cloud Club' seminar, over at Microsoft's Paddington office. Schools attended to learn more about the latest Office 365 updates from Microsoft, giving them an insight into the exciting things to come. Attendees were able to share their stories and current progress with their journey to the cloud. Some great discussions were created around how each school is embracing the cloud and how Office 365 is being used by staff and students. Some of our special guests included three sixth form students from The Haberdashers' Aske's Boys' School, who were able to share their point of view on how technology is used in the classroom from a student's perspective.
Meanwhile, the rest of #TeamHable were busy setting up over at Kings Cross. Not only did we have plenty of drinks and nibbles, we had new merchandise to give away to our guests showcasing our brand new look – keep an eye out for our Hable water bottles and backpacks! To top it all off, we had trays of #DreamDeploy cupcakes and a birthday cake made by Bake-Off alumni Priya O'Shea. You can't ask for more really…
Before we knew it, the guests arrived, drinks were flowing and the party was in full swing. "It feels a bit like my wedding day" said Mark before himself and Sean gave their speeches. Mark reflected on his entrepreneurial journey, sharing the story of his first business venture. "I decided I wanted to get a paper round, but I couldn't because I was too young, so I got my next door neighbour, who was fourteen, to get one, and did it for him." This was followed by the grand unveiling of our new video "Hable: Our Journey" which you can now see for yourself on our Youtube channel! Sean finished off with some words about his first twelve months with Hable, and how much of a privilege it is for him to still be able to work so closely with his former colleagues at Microsoft. "To stand here now and see see so many Microsoft people, both present and former, is probably one of the most humbling experiences of my life."
As one lot of celebrations came to an end, there were other parties to be attended. Our friends from Microsoft jumped onto a bus to Battersea for their Christmas party (featuring a live performance from the Stereophonics!) Meanwhile, #TeamHable and partners walked around the corner to Drake & Morgan to make the most of a full team gathering by continuing the celebrations over a three course Christmas dinner.
"Hable are like friends to us. They hold all of the values you want in a team. No more Hable T-Shirts, Hable capes please!"
Thanks so much to everybody who made it down, and to all who have supported us over these five years. Here's to the next!