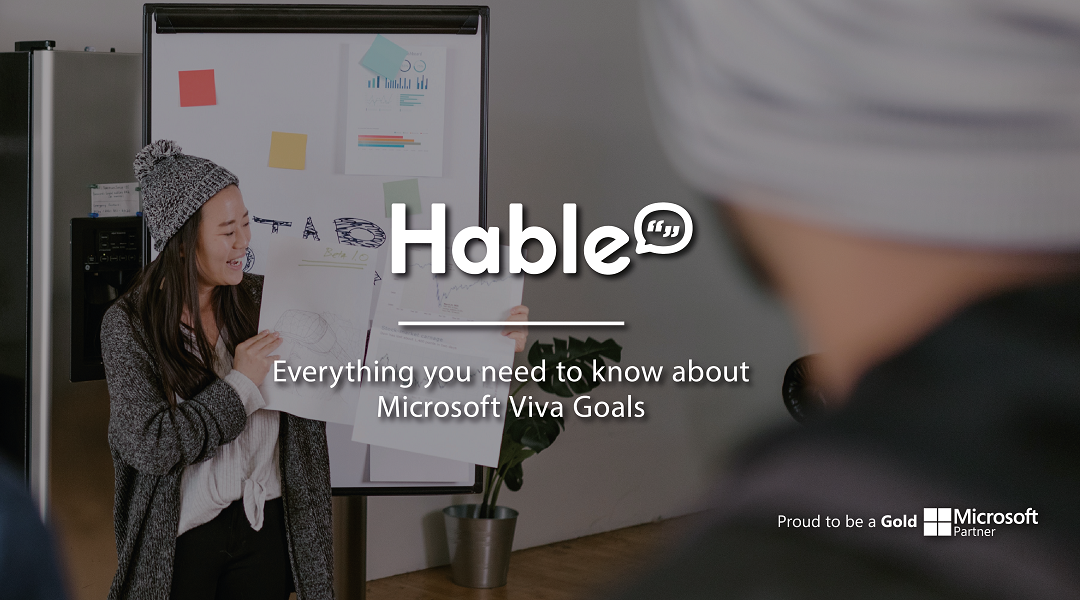 Since its launch last year, we've been massive fans of Microsoft Viva here at Hable. The employee engagement platform, which brings together tools for learning, communication, knowledge and wellbeing into the flow of work, has proved to be a hugely exciting addition to the modern workplace.
What is Microsoft Viva Goals?
According to the statement on Microsoft's website, Viva Goals is a goal-setting and management solution, using the OKR (Objectives and Key Results) framework. It will engage and align teams and individuals to the strategic priorities of your business, allowing you to track goals and work towards a purpose.
What will Viva Goals actually
do?
Here's what we know so far about what features will exist within Viva Goals, and what the module will actually do:
Allow you to list key businesses goals, visions and objectives

Track progress against these goals

List the individual tasks that will help reach these goals

Assign owners to tasks and goals

Allow you to visualise how close you are to business goals

Provide functionality to celebrate team success
This will all take place in Microsoft Teams, allowing individuals to stay aligned to strategic business goals, all in the flow of their work.
What will Microsoft Viva Goals benefit your people?
Viva Goals is an exciting tool that will help bring people together through sharing visibility into the strategic objectives of the business. It will motivate teams through the communication of progress towards these objectives and goals, and ensure there is buy-in to business goals across the organisation.
Above all, we see Microsoft Viva Goals as being a tool that can help drive a positive culture; one that is goal orientated and built on a shared ambition.
"Viva Goals makes goal setting so much more effective and useful for all. This is no longer a one off exercise that's reviewed at an annual appraisal – it's a live, clear and connected way for individuals and teams to have visibility on progress to what matters. Viva Goals is a game changer for performance management."
– Nathan Rhodes, Government Sector Lead, Hable

How to get Microsoft Viva Goals?
Currently, Viva Goals is only available as a private preview and won't be coming to the Viva suite until Q3 2022.
Our team of Microsoft Viva specialists and Change Practitioners are here to help you explore the many possibilities of Viva and the different modules. Please get in touch today if you have any questions.