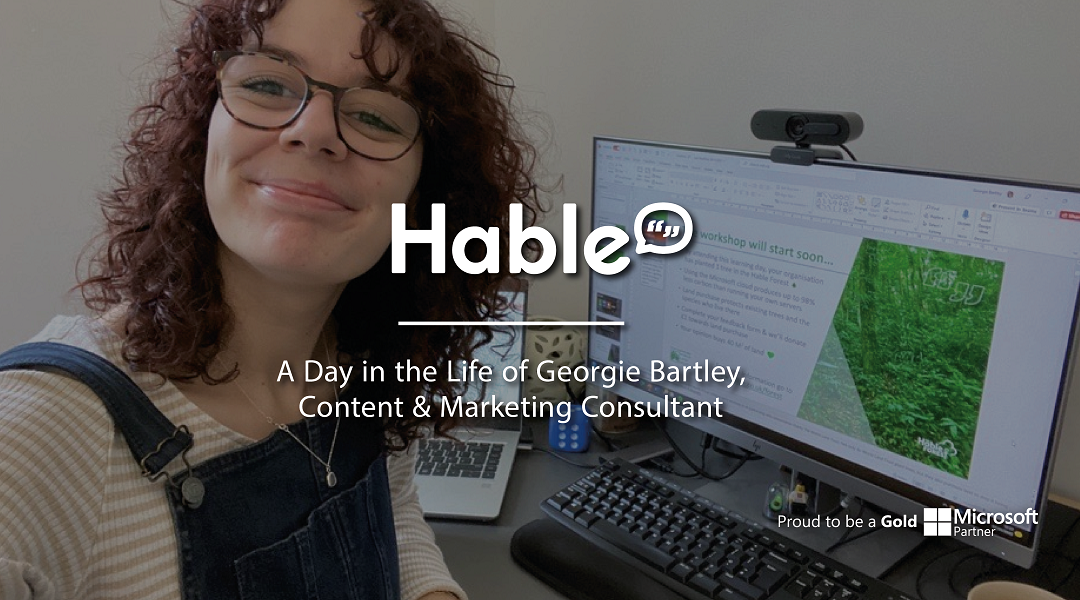 Hello! I'm Georgie Bartley I've been the Content & Marketing Consultant at Hable since October 2020. Working in our Content team, I develop and support on a range of requests from multiple stakeholders including our customers, create presentations, and produce marketing collateral for various areas of the business.
Being creative has always been a passion of mine, so this role is a perfect fit for me. I would safely say I am now a Slide Master Queen (this is an unofficial title) in PowerPoint – and can be found spending many hours researching and developing new ways to make our content look great!
In a nutshell, I help to create our bespoke Learning Resources for customers, whether that's our learning guides, our workshop slides, or videos on the latest apps. I also do a lot to support the pre-sales side of the business in developing our proposals and materials needed to complete a sale. As a result, I work closely with the Delivery, Sales, Operations and Marketing teams – which suits me down to the ground as I love to connect with and support others!
Here's what a typical day in the Content world looks like for me at Hable:
A day in the life working in Content
9am – 9:30am:  I tend to start the day around 9am (with a massive cup of tea) and start by going through our Orders channel on Microsoft Teams; this is where I can see what has come through from Ops. If we have a new order, I add this to our Planner, if not then I'll move onto adding tasks to my To Do list. This exercise is really helpful in the morning, as it helps me visualise what I need to sort that day! Sometimes I might have a meeting, but I'm not a morning person… so I tend to reserve those for mid-morning or the afternoon.
9:30am – 1pm:  Now it's time to get cracking! I end up working on multiple presentations and guides at a time – I sometimes have up to 10 different PowerPoint files open at once… I use this time to develop customer branded slide masters, update the accessibility checker tools and export our guides over to PDF. Throughout the morning I might get ad-hoc requests via my Teams chat, particularly if something new and exciting has come in from the Sales team.
1pm – 2pm:  Is it just me or do you find one of the hardest decisions of the day is to decide what to have for lunch? I'll often have a bowl of pesto pasta, homemade soup or ramen noodles in the winter. When it's sunny outside I love fresh salads or olives, houmous and pitta bread. I try to get away from my screen to give my eyes a break, so I tend to pop some washing on or listen to a podcast whilst I tidy my flat. I also like to go on walks by the river when I can – it's only 5 minutes away from my door!
2pm – 3pm:  For some of our larger customer projects, I sometimes get pulled into meetings to make sure that all of the specific requirements are adapted within the learning content. Or I might take this time to check in with a few colleagues for a catch up – something I try to prioritise with my close friends I have made as I've realised it really helps boost my mood.
3pm – 3.30pm: As a side project to my main role, I am also the Wellbeing Community Lead for Hable, so I make sure to dedicate some of my time in the week to this – whether that is replying to messages in the Yammer community or scheduling the next session.
3.30pm – 5.30pm: I am known for being a bit of a night owl, so if we have a lot of orders, I find the quieter time at the end of the day is my productive peak and perfect to crack on with large reference guide orders. I pop some music on, make another vat of tea and get going.
I like to end my day with ticking off any completed orders on our Planner, it's so satisfying clicking the complete button!
What is lovely about working in Content is you never know what new request will come in – so each of my days end up being filled with wonderful new collaborations, exciting projects and tough solution building. I wouldn't have it any other way.
If you'd like to chat about my role feel free to connect with me on LinkedIn!