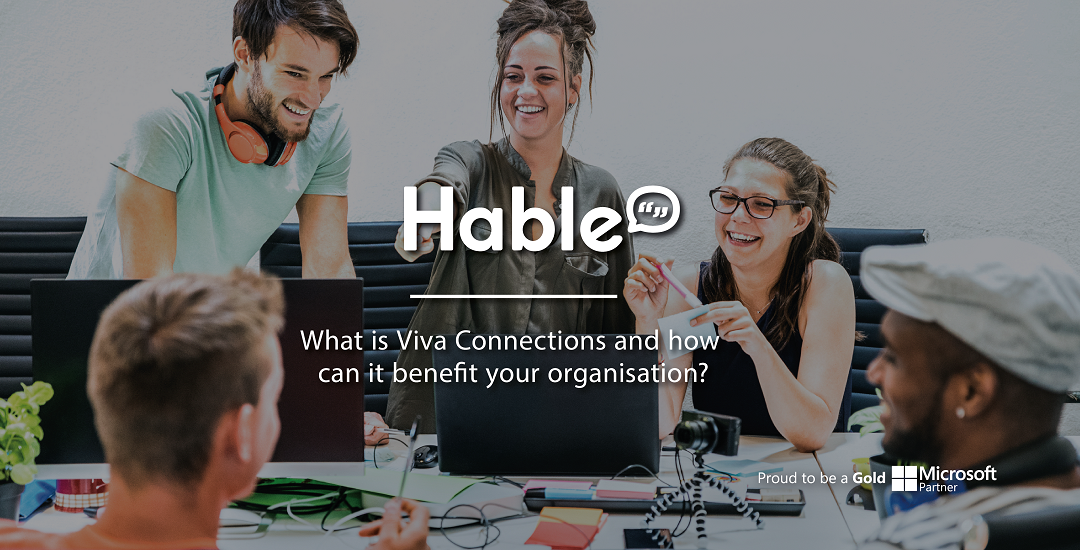 We've made no secret of the fact that we're big fans of Microsoft Viva, the new employee experience platform designed with the world of hybrid working in mind.
Viva brings together a suite of tools to enhance employee engagement, facilitate employee learning, and ultimately, create an environment where every individual can thrive at work.
What is Viva Connections?
Described as the "gateway to a modern employee experience," Viva Connections is one of the four modules that make up Microsoft Viva. It combines your company intranet on SharePoint with the power of Microsoft Teams, allowing your people to seamlessly search for and access news, files and other resources all in one easily accessible place.
Delivered to your users as a company-branded experience in Microsoft Teams, Viva Connections gives you the ability to curate the content that you want your people to see, bringing everyone together, wherever they are.
How can Viva Connections be used across your organisation?
Employees: Stay engaged with everyone in your organisation, whether you're working on the frontline, in the office or remotely. Save time wading through files and systems by receiving the information you need to succeed in your role, all in one place. Stay connected to your colleagues, share your ideas, and join communities that matter to you.

Internal Comms teams: Share important company news or announcements at scale, or target your updates to certain employee groups, ensuring everyone stays informed with relevant and useful information.

Leaders: With Viva Connections, leaders have the tools they need to completely transform company culture, making it inclusive, and empowering employees for success. Communicate your important company moments and announcements, share relevant news, and bring everyone together no matter where they are.
What are the benefits of Viva Connections?
Here we take a look at just some of the many benefits of Viva Connections within your organisation. If you'd like to find out more about deploying it to your teams, please get in touch with Hable.
1. Provide relevant, tailored information
One of the biggest selling points of Viva Connections is that it allows organisations to provide people with relevant news, conversations, tools and resources all in one place.
In the Viva Connections Feed you or your organisation can share updates to the right people at the right time, targeting specific content to certain employee groups and scheduling messages at a time that suits you.
Using integrations with Yammer, SharePoint, and Stream you can create tailored information that ensures your people are seeing the content that is most relevant to them and their role.
2. Encourage meaningful conversation
Companies with an inclusive and supportive culture encourage everyone to contribute their thoughts and ideas.

With Viva Connections, people can share their thoughts, add their comments and start conversations from anywhere, on any device; connecting everyone from your office employees, to frontline workers and remote teams. With a huge 60% of people saying that they feel less connected to their colleagues after the move to remote work, Microsoft Viva Connections brings everyone back together.

Employees can also find and engage with the communities that matter to them. By sharing their values, it can create stronger relationships and links across your organisation.

By empowering people with these tools, everyone is encouraged to share their individual thoughts and start the meaningful conversations that we all miss when we're together, in the same room.

3. Communicate important company moments
At a time where the workforce is more dispersed than ever before, your people need to feel connected to the moments that matter to stay motivated and included. With 74% of employees feeling like they miss out on important company information, Microsoft Viva Connections gives your organisation the tools to keep everyone informed no matter where they're working from:

By using video and live events, you can seamlessly communicate important company moments, campaigns, and news to the entire organisation. You can share stories, messages and provide unique experiences for different teams.
4. Search through company content easily
No one enjoys searching through hundreds of files and folders to find what they need. With Microsoft Viva Connections, you can search through all this content easily without impacting their productivity or flow of work.

Employees can find the resources, policies and information that they need to succeed in their jobs without having to hunt around through multiple systems, with Viva Connections providing a one-stop-shop dashboard where they can access everything they might need:


Provide direct links to HR resources

Share information on company benefits

Give access to important health and safety policies


Allow your people to request time off
5. Transform your company culture
Through all of these fantastic features and tools, Microsoft Viva Connections can ultimately transform company culture. Built for the hybrid world, Viva Connections takes your employee engagement to the next level, providing an inclusive experience for your people no matter where they are.

Engage your teams, keep everyone informed, and inspire at scale.
Viva Connections benefits infographic
We've put together these points in a handy infographic that you can share within your organisation, either to get buy in or to communicate the benefits of the platform to your teams.
How do I get Viva Connections for my organisation?
Microsoft Viva Connections is built on your current Microsoft 365 ecosystem; powered by SharePoint and deployed and accessed in Microsoft Teams.
Talk to one of our inhouse Microsoft Viva Specialists on rolling out Microsoft Viva Connections across your company, or find out more about our new Viva Connections Adoption service: