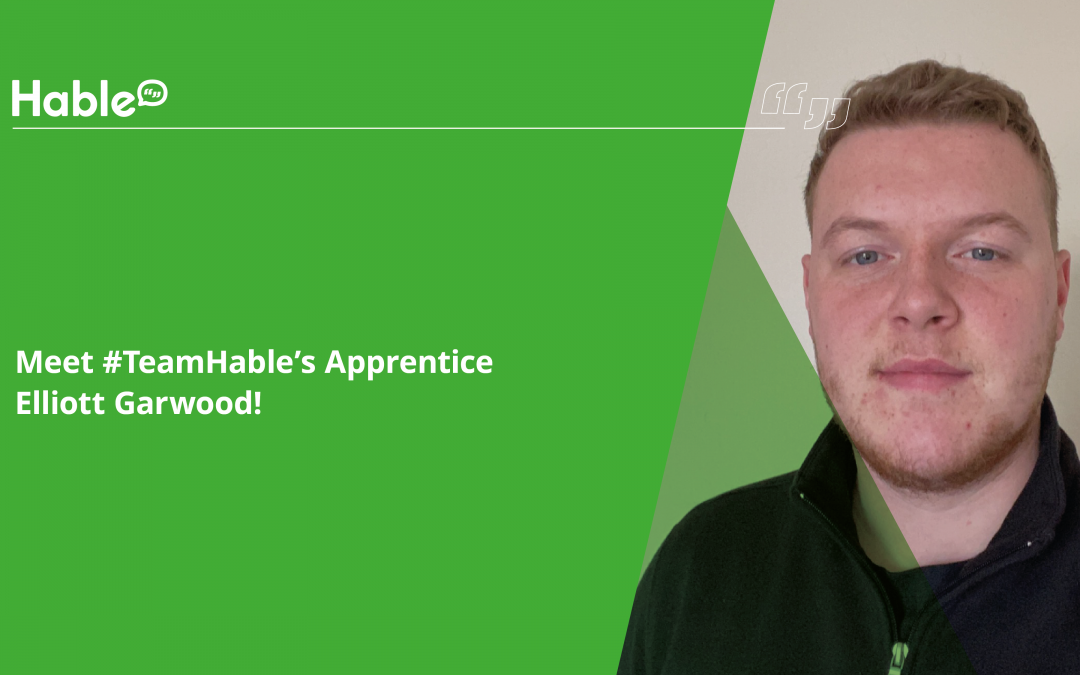 At #TeamHable, we recognise that we are very fortunate to work in an industry that has grown over the past year. It's been a difficult year in many industries, and we know that the 18-24 age group particularly has been impacted. They were often the first to be furloughed and made redundant, and a large proportion of this age group work in the hospitality industry, which of course has suffered massively.
We are so grateful that #TeamHable has grown in size this year despite, and in part as a side effect, of the events of 2020. We want to invest back into this age group, and we know the incredible value they add as team members, bringing a fresh perspective to the business.
So, we are delighted to have taken on our very first apprentice!
#TeamHable's apprenticeship programme also brings us into alignment with the goals and objectives of Microsoft's Partner Pledge, which we signed in 2019. As a Microsoft Gold Partner, we are committed to achieving Microsoft's vision, not only through advocating the technology itself, but by sharing their vision for how technology can play a role in addressing broader societal challenges.

What is the Microsoft Partner Pledge?
Microsoft are, and have always been, a very partner-oriented organisation. Through this way of operating as a business, they add value to the local economies in which they work and help countries prepare for the challenges of the future as we go through the fourth industrial revolution. In 2019, we signed the Microsoft Partner Pledge to show our commitment to Microsoft's goals, which aim to create system-wide change and pave the way to a promising future for all. These goals fall under the categories; digital skills, apprenticeships, diversity, responsible and ethical AI and sustainability.
At present, the UK is facing a skills crisis. There are not enough people entering the workforce with the technical and digital skills needed to support the progress of the country through this revolution, which is why Microsoft have placed such a strong emphasis on apprenticeships in their partner pledge. While the traditional academic route is a fantastic platform for so many young people, giving them the opportunity to further their knowledge, interact with a diverse set of people and in many cases, experience living by themselves for the first time. However, this is not the only route to gain this kind of life experience, there are so many different avenues available to young people now, and we think an apprenticeship brings a huge amount of value to both young people, those looking to change careers and the businesses themselves.
All about Elliott
Like many young people, Elliott wasn't sure what career path he would like to take. He felt that the academic route wasn't for him, so decided to enter the working world at the age of 17, where he tried out a number of roles, ranging from bar work to a marketing apprenticeship. While he knew he hadn't yet found his passion, his experiences in the working world have been invaluable to him.
"Starting work younger has matured me a lot more than an academic course would have. I've been interacting with older people in a professional context for a couple of years already. I've learnt so much from this and grown as a person."
– Elliott Garwood, Sales Executive
The apprenticeship route was one which has always appealed to Elliott.
"Being in an environment of work, learning and earning really appealed to me. Learning the job with a hands-on approach rather than being taught how to do the job without any practical experience suits me so much better."
Hable had been on the horizon for some time for Elliott, who had met Mark at football training a few years back – the year that Mark left Microsoft to start Hable, in fact. Things aligned a few months ago when Mark reached out to Elliott, who was working night shifts in a warehouse at the time. Elliott met Mark in Oxford and before he knew it, was a fully fledged member of #TeamHable, working as a Sales Executive in our Education department. Elliott spends one day a week studying, and the rest of the time applying his knowledge in a real-life work setting.
What have you enjoyed about the apprenticeship so far?
"I didn't have any prior knowledge of sales. I've found it really interesting so far, something Mark said to me is that it's all about finding your own style and sticking with it. That's been clear observing different members of Hable on calls, each individual has such a different style. I can't wait to find my own. It's also quite interesting to be working in the education sector, as I'm not long out of the education system myself, it's a good starting point and I think I can bring a unique perspective to it."
How are you finding remote working?
"It can be challenging, working in the same surroundings all the time, and of course, I've not actually met anyone on the team just yet. However, there are many benefits. There's a lot of freedom and trust given to employees which is quite different from being in an office environment. I'm actually moving to Nottingham soon, something i've wanted to do for a long time, as my brother is living up there and I really love the city. Now I have a job that enables me to do that, and I will be moving into a house with a designated office space. It's a great opportunity and something that adds even more appeal to choosing an apprenticeship over a more traditional route."

A few facts about Elliott
Favourite book: Harry Potter and the Half Blood Prince
Favourite film: Shawshank Redemption
Favourite trip: New York
Best Microsoft tool/feature: OneNote and Planner
Website I check every day: Twitter
Favourite childhood memory: Sunday morning football
It's been such a pleasure having Elliott working on our team. Our Education Sector Lead, Chris Thackray, has commented on the positive energy and enthusiasm Elliott brings to work every day:
"Elliott has been a great addition to the Education Team, he brings a positive approach and a desire to learn. He's not been with us long but is already making an impact. Apprenticeships are a great way to get real hands on experience of work. It's important to us at Hable to make sure that our apprentices get real world experience but are also supported, trained and coached on how to develop their skills and capabilities."
– Chris Thackray, Education Sector Lead @ Hable
We can't wait to grow and learn together and take on even more apprentices!
Interested in doing an apprenticeship with Hable? We want to hear from you! Drop us an email at info@hable.co.uk or, even better, send in a one minute video telling us something you are passionate about and why you would love to work with us!
Follow us on Twitter & LinkedIn for more industry updates and insights.