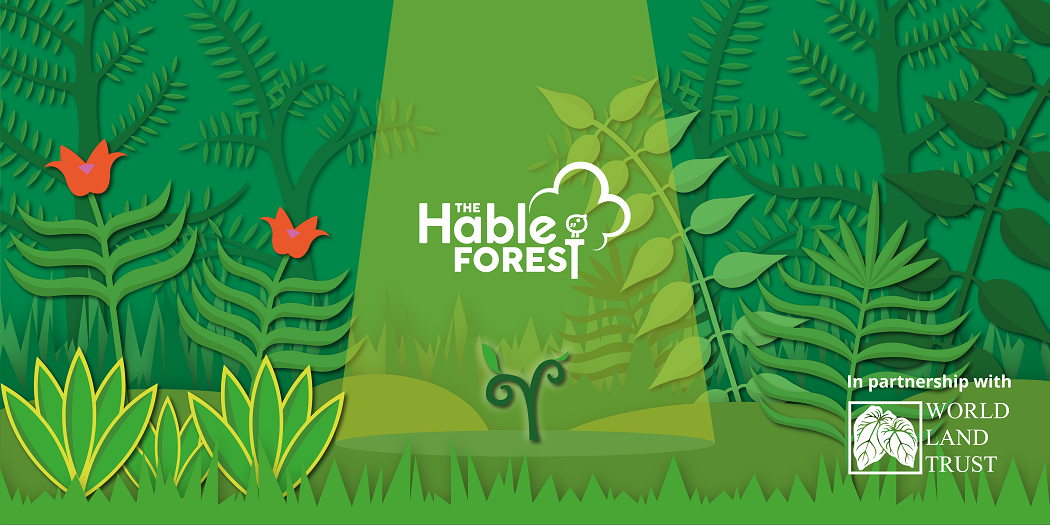 As an organisation, we are committed to ensuring we remain environmentally conscious and make ethical decisions about the way we are run. As part of that, the Hable Forest is our way of helping to make a difference to the planet.
What is the Hable Forest?
Working with conversation charity The World Land Trust – who have helped to secure more than 2,222,247 acres of threatened habitat in 20 countries since their foundation in 1989 – we are going to be planting trees and helping to protect some of the World's most threatened habitats in Brazil, Borneo and India.
For every learning day we deliver, Hable will be planting a tree in one of these locations. To put this into some sort of context, we delivered over 770 learning days in 2020 and estimate this will be over 1,000 by the end of 2021 – that's a lot of trees!
We'll also be donating £1 towards land purchase for every feedback survey we receive from a customer – 100 survey responses will buy a whole acre of land to be handed over to a local community, protecting areas that might otherwise be destroyed.
As part of this initiative we also want to raise enough money to employ a Forest Ranger – a local man or woman who goes straight into the conservation frontline to protect and monitor the projects.
Aligning ourselves to Microsoft's Partner Pledge and their 'carbon negative'

commitment
As a Gold partner of Microsoft, we've been especially inspired by Microsoft's ongoing commitment to reducing their impact on the environment – they have been carbon neutral across the world since 2012 and have committed to being carbon negative by 2030. Just 20 years later, in 2050, they predict that they will have removed from the environment all the carbon that they've emitted since the company was founded in 1975.
It was pledges and commitments such as this, along with signing the Microsoft Partner Pledge, that inspired #TeamHable to look into what we could do to make a difference.
The Partner Pledge shows our commitment to their values and ambition of using technology to drive a more inclusive and greener future.
The pledge focuses on a dedication to:
Sustainability and reducing carbon footprint

Digital skills within the UK

Apprenticeship opportunities

Creating a more diverse and inclusive workforce

Building accessible solutions and services
All are areas that we are incredibly passionate about.
How tech companies can be more environmentally concious
Through the launch of the Hable Forest initiative, we not only hope to do something great for the planet, but we also want to raise awareness of environmental issues within the tech community and share ways to offset the impact of technologies.
While many industries such as fashion and tourism are starting to come under scrutiny for their environmental impact, the tech industry remains fairly under the radar. For example, many don't realise that the devices we rely on every day have a significant carbon footprint – the average smartphone requires 55 Kg of CO2e to manufacture, with up to 270 kilograms of carbon dioxide being emitted in the manufacturing of a laptop. With an estimated 160 million new laptops made every year, that's a lot of carbon emissions!
According to this Microsoft blog on sustainable software, you would have to use a device for over 10 years to match the carbon emissions associated with manufacturing them.
The solution isn't as simple as just stopping the use and production of tech; let's not forget that advances in technology also helps environmental impact in some cases – such as removing the need for multiple participants to travel for a meeting.
However, as tech companies, it's our duty to ensure we reduce the impact on the environment and offset the carbon that we contribute. The Hable Forest initiative is just one way that we're planning on doing this at Hable, but there are plenty of other ideas that tech companies can adopt:
Recycling laptops rather than chucking them out

Encouraging remote meetings on Teams

Empowering a team of climate or sustainability champions

Allowing your people to work from home

Embracing clean technologies across your organisation, such as solar

Using eco-friendly products where possible

Using sustainable packaging on your products

Encouraging employees to walk or cycle to work if possible