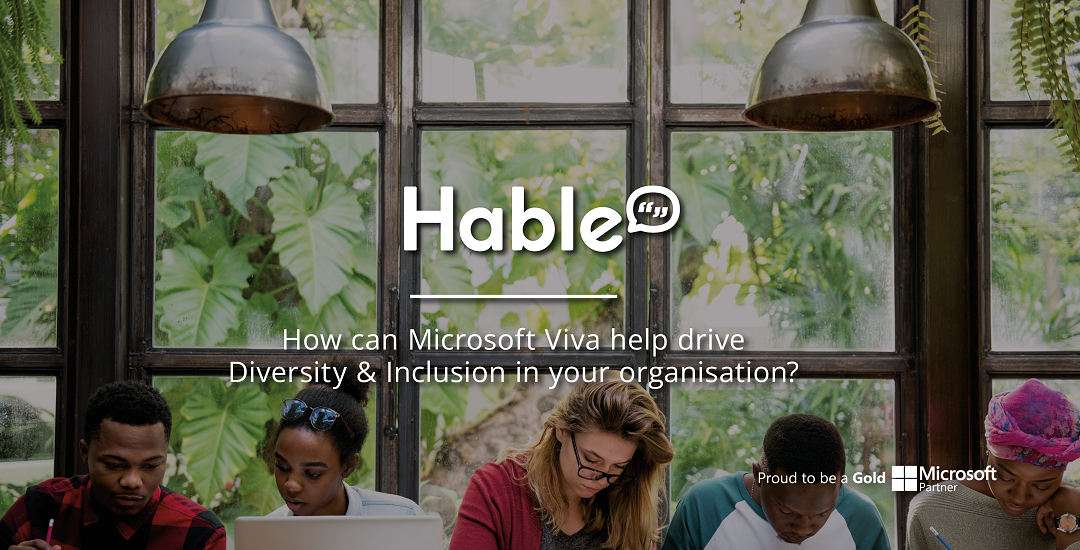 The employee experience platform, Microsoft Viva, was announced earlier this year as an exciting development in the future of the modern workplace. It brings together tools for employee engagement, learning, wellbeing and knowledge discovery directly into the M365 apps that your people are already working in every day.
We all know the importance of diversity and inclusion in the workplace – it helps retain staff, it motivates your teams and ultimately, makes businesses more profitable. But, how can Microsoft Viva help to drive this?
1. Protect wellbeing with the Viva Insights module
Viva Insights is the 'wellbeing' module of the Viva platform, offering different tools depending on whether you're a leader, manager, or individual user.
For your people, Viva gives them a set of features to help build better working habits, including:
The protect time feature, which allows users to schedule focus time into their working day, muting notifications and allowing for the flow of their work to continue without interruptions and distractions
The virtual commute tool helps to break up the time between work and home
Integrations with mindfulness app Headspace provides guided meditation, giving a moment for pause and reflection throughout the day
2. Create communities and have meaningful conversations
Viva Connections is a fantastic application to engage your whole workforce as the "hub" for their work day.
With the ability to integrate Yammer into Connections, you now have an amazing opportunity to bring Employee Resource Groups, common interest groups and other communities to the surface for your people. By making this part of the user experience in the Connections App, you are providing people in your workplace with opportunities to express themselves on topics that are important to them, and to connect with people around the business that they wouldn't normally be able to in their every day work.
All of this will help to empower your people to have a voice, to connect with people around your business and to express themselves as they are, even though they may be working in a different place.
In a world of a dispersed workforce, this is more important than it's ever been before. More than that, it tells your people that your organisation recognises the importance of them being able to express themselves and to come as they are.
3. Improve knowledge of diversity and inclusion through learning
With the Viva Learning module, your people are empowered to discover, share, and delve into a huge catalogue of courses from across the World's leading learning providers such as Coursea and LinkedIn Learning.

Through this, you are able to promote Diversity & Inclusion related learning to people across your organisation, improving knowledge of these important topics. LinkedIn Learning alone for example, has over 2,000 courses on diversity!

Training is a key component in improving diversity across an organisation, helping people to become more aware of current issues, attitudes and best practice. It can help to improve respect among your people and increase understanding about diversity as a whole.
4. Highlight relevant policies relating to diversity and inclusion
In Viva Connections, IT teams are able to highlight important resources to people across an organisation, allowing them to easily access these from anywhere. As a way to drive inclusion, this could mean creating a section within resources specifically for your D&I content. You might include helpful internal contacts, handbooks and guides, or your internal Diversity & Inclusion policies.

5. Gain a better insight into overall employee wellbeing
Having already talked about the powerful wellbeing tools that can be used by your people on an individual level, let's take a look at the way Viva Insights can help managers and leaders understand and manage employee wellbeing:

At a manager level, Insights can provide stats on work norms and useful insights into the working culture at your organisation. You'll get access to employee wellbeing data including the amount of collaboration time, the amount of focus time they're having and the amount of time worked out of normal hours.

With this comes research backed recommendations on how to improve the wellbeing and culture within your business, including understanding and preventing the patterns that lead to burnout and fatigue.
Download our Microsoft Viva infographic
We have put together this infographic to show the impact Microsoft Viva can have on driving Diversity & Inclusion within your organisation. Download it below!
Unlock the power of Microsoft Viva
At Hable, our Microsoft Viva Specialists are on hand to answer any questions you may have about unlocking the power of this platform in your organisation. If you have any questions about Viva and how it might be able to work for you, please get in touch.