Since the pandemic, more and more organisations have been moving towards hybrid working.
Queen Mary University of London are no exception to this, embracing hybrid working in a big way. Part of this was a large investment in a brand-new building, called Department W. It designed specifically with the new world of hybrid working in mind.
What Hable Did
Facilitated a smooth induction for Queen Mary staff to their new workspace

Introduced staff to their new devices and new technologies

Created a bespoke Microsoft Teams app to store all learning resources

Supported 650 staff in total through Hable Workplace Coaches

Received excellent feedback from the customer

Made a long-lasting positive impact



With an emphasis on high tech meeting spaces and areas for collaboration, Department W is a place for staff to come and work together. With their colleagues. Using the best technology and space design there is to offer.
Queen Mary came to us with a certain number of challenges, including a general resistance to change. Too-familiar ways of working across the University. And staff having shared working spaces without a fixed desk.
It was our job to come in and provide guidance, helping their people adapt to the hybrid world and embrace new ways of working.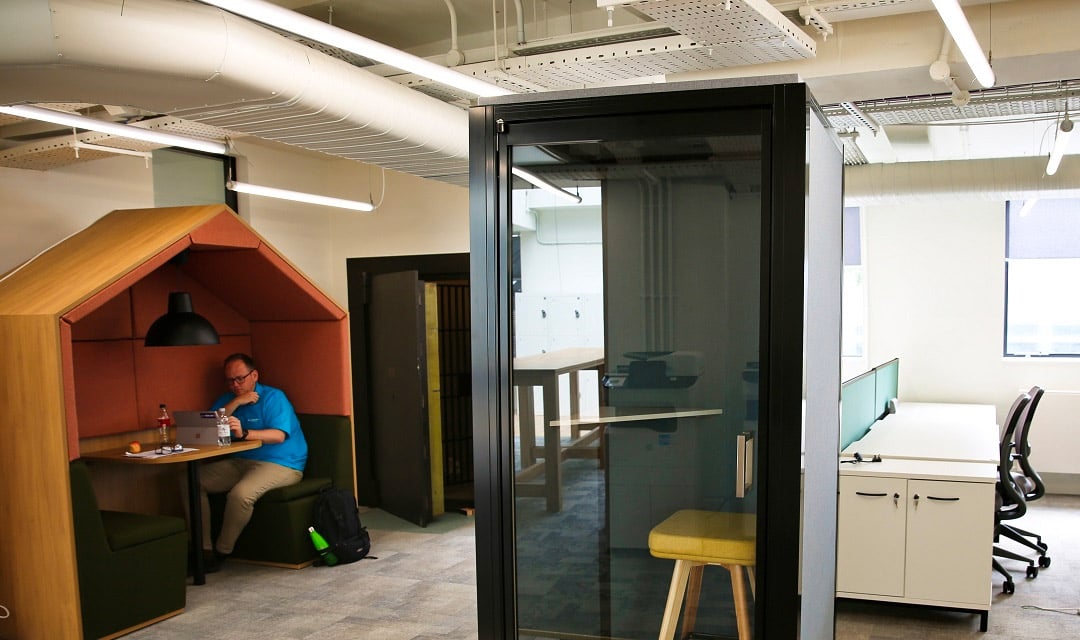 Queen Mary needed a smooth induction process into the new building, and clear guidance on how to make hybrid working a reality. They also needed support in the effective use of Microsoft Teams to facilitate this move to a new way of working.
We ran induction sessions to welcome staff to the new Department W workspace, taking them around the key areas of the building. Introducing them to the new devices available. And running through key topics such as how to use Outlook to book rooms.
Our fantastic Workplace Coaches were both onsite and available virtually to provide support throughout the induction period. We ensured Queen Mary staff felt continually supported throughout the transition. Onsite our Coaches were able to provide support on questions and run 1:1 sessions to help build digital confidence.
To facilitate self-learning, Queen Mary had a number of existing guides and videos that explained new technologies and key information about Department. This included device set-up, general information for the social spaces and new system guides. It was recognised that whilst these resources were accurate, they were too technically written and wordy. We made some changes so that they were more accessible, people-focused and easier to understand.
Our technical team then built a bespoke Microsoft Teams app to host these. We ensured all of the improved videos, guides and learning resources could be easily found. As well as utilising the fantastic brand that Queen Mary recently updated.
Named the 'Info Hub', this bespoke Microsoft Teams app offers everyone at Queen Mary access to all relevant documents and resources in one central place.
Hable were very patient with us, as there were so many that had to feed into the Info Hub. They did a fantastic job in tailoring it, and making it user friendly. We have the tendency to write in technical language, so it was good having Hable there to step in and steer in the right direction.

- Melissa-Jane Oliver, IT Programme Manager, Queen Mary University London
This was a truly collaborative project. One which brought people together from pretty much every department at Hable. We delivered some fantastic work as a team and received some great feedback from the customer.
We are immensely proud to have played such a vital role in the introduction phase. We look forward to seeing how this new workplace flourishes.
Unlocking the power of Microsoft 365
At Hable, we change the way people feel about technology. Through our range of adoption and change management services and package, we can improve the way your organisation works by unlocking the power of Microsoft 365.
For questions on how we can work with you to do this, get in touch; we'll be happy to help.
Discuss a project
Customer stories