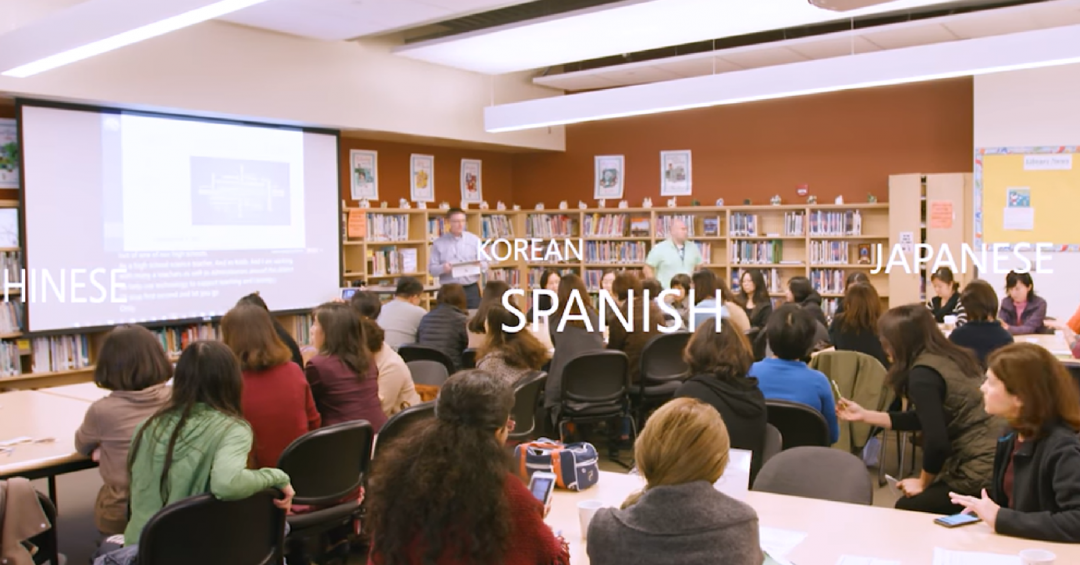 In 2260, Captain Kirk and the crew of the USS Enterprise, used the Universal Translator to communicate and reach across language barriers.
The Future is now !
Kirk and Spock with the UT (Universal Translator)
"Second-language listening ability is considerably improved by the use of subtitles"
-Holger Mitterer
Students watching a presentation while following in their own language
Find out more about how Microsoft Translator – an essential part of the toolkit for all teachers and students, particularly those who are studying abroad and learning the local language.
In the last Academic year, there were nearly half a million International students in the UK. Statistics are hard to find, but it's a good educated guess that a high proportion of these students will have at least few of their lecturers delivered via PowerPoint. I wonder, how many of those lectures are utilising the free captioning and translation tools in PowerPoint to support their learners of English as an Additional Language?
Even though many of these students will be more than comfortable and competent in English, the additional support that subtitling gives to a second language learner is invaluable – it doesn't take away or replace language learning as some people fear, but rather enhances and supports learning and increases confidence, participation and engagement.
I have to declare an interest at this point. My PGCE is in French and English as a Second Language and how much would I have loved these tools when I was teaching children and young people with very little English? I also used to work in translation and localisation businesses, so I'm a bit picky about these things being done properly! Any linguist will question whether automated translations can ever deal with the nuance and complexities of language. The AI, built into Microsoft Translator, works on the principle of Deep Learning, operating on the basis of neural networks rather than a set of rules to deal with the complexities of language. And the results speak for themselves. It's not perfect, but the quality of the translations is good and getting better all the time. I'd say a steady B-.
Not only that but we can do things to help make them better – firstly by speaking as clearly as possible in our own language, something we could perhaps all work on anyway– and secondly by running the slide deck through the tool ahead of delivering a presentation (takes about 5 mins for the average slide show). This enables MS Translator to understand any complex terminology and understand its context in order to ensure an accurate translation – something that's particularly important in an academic context with specialist language.
All you need to do is
Download MS Translator

MS Translator
Click on Start Subtitles
Select the language that you want to appear on the subtitles
Select Custom Speech recognition to improve accuracy of translation
Then click Subtitles
Then it will generate a slide like the one below, and students can copy the URL or scan the QR code. They will just be prompted to download Translator themselves and from that point will be able to follow in the language of their choice
Begin your presentation, speaking as clearly as possible – a good microphone helps
At the end of the presentation you can save the transcript and share it with students
All the above can be done if you want to just use this tool for subtitles to assist people who are deaf or hard of hearing. They can also choose to follow what you are saying on their phones by following the same steps as above and again they will need to scan and select the language of their choice.
(By the way, don't forget that there are smartphone versions of the app, great for work rest and play ! You will never need to second guess a menu when abroad again – just take a photo of the menu and you'll get an automatic translation in over 63 languages)
For more details, please check out this support site which is specifically targeted for Education users with case studies, hints and tips and general guidance or please contact us for more information